THE IN-DEEP GUIDE TO CHOOSE A SKATEBOARD FOR BEGINNERS AND RECOMMENDED BRANDS
When it comes to picking the very first skateboard, all newbies have several questions and concerns since they rarely know about skateboarding and skateboards either. Visiting any skate shop can be quite overwhelming because they offer hundreds of models with different shapes, sizes, brands, and features. 
It may not sound like you are suffocating but you will have a hard time deciding which product is the best for learning. Therefore, this in-deep guide will provide all the necessary information to choose the perfect skateboard for newcomers. Later on, you can see the list of some popular skateboard brands to choose from. 
DETERMINING YOUR SKATING STYLE
There are numerous ways to enjoy a skateboarding session and each skating style has its own requirements for the skating gear, especially skateboards. Typically, you may have heard about street skating, longboarding, cruising, or skateparks. 
By determining the style you are into, you can get the general picture of the tricks that are included or the requirements for the construction of an ideal skateboard. For the rest of this guide to pick the Best Skateboard For Beginners, I will assume you have determined your needs.
THINGS TO AVOID
I never recommend a poor-quality skateboard for newbies since these products often break down even in the first session. Moreover, riding on a low-quality board is extremely dangerous, especially when you are into some fast riding style like downhill skating. 
From my experience, plastic skateboard decks, plastic trucks, trucks that can not lean or turn, super-soft wheels made of rubber, and hard plastic wheels are not good options. Of course, the prices for these toy skateboards are super cheap but you may need to sacrifice your safety. 
SKATEBOARD SIZE
When referring to skateboard size, we usually talk about the width of the deck which is between 7.75" and 8.25" for typical applications. In order to pick the right size, you should consider the rider's age, skills, and experience in other relevant sports.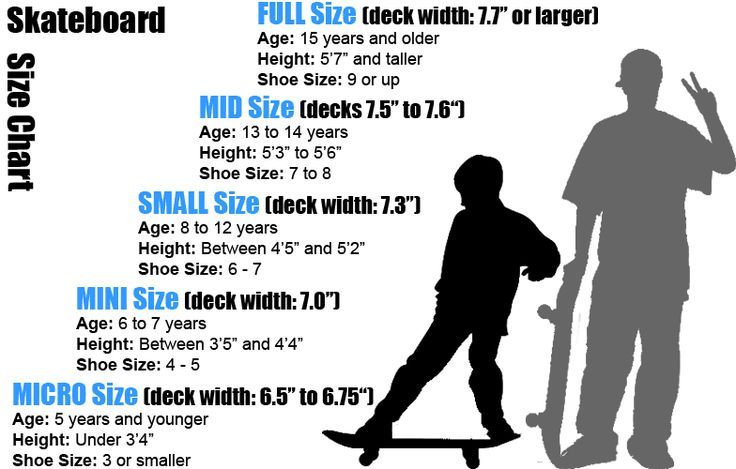 The narrower the deck is, the skaters will have a lighter deck for performing ollies or flip tricks. However, they may not be suitable for landing tricks as the space for your feet is limited. On the contrary, larger boards require a greater force in order to perform tricks but you can control the boards easier and there would be more room for little errors. 
Skateboard size is categorized into full-sized skateboards and junior-sized boards. Full-sized skateboards are well designed for skaters older than 10 and they typically come in either 7.75" or 8" width. 
If you are looking for a skateboard for your kids to learn the fundamentals, a junior-sized skateboard may suit them better. Although smaller skaters can still use a full-sized skateboard, I strongly recommend a junior-sized one to get the best comfort. 
WHAT SHOULD BE EXPECTED?
All skateboarders want their skateboard to have both cool graphics and good quality but they also need to reconsider their budget because a decent skateboard with a high-quality and attractive appearance can not be budget-friendly. 
Even though you are free to choose low-cost skateboards at Walmart, Target, or Amazon, these boards are just toy skateboards and are totally unusable. These stores do not specialize in distributing skateboards and other relevant gear so you can not expect to get a premium product there. 
For skaters who hardly know about skateboards, I would recommend they go for a complete skateboard to save time and effort. By buying a pre-assembled one, you are ready to go for your first skating session without worrying about how you can put things together. 
There is no need to pick separated components to build a skateboard as beginners usually practice some basic skills and tricks which do not require much from the skateboard. However, when reaching higher levels in skateboarding, skaters may want to begin building their own skateboards. 
To build a good skateboard for yourself, you should have good knowledge about skateboarding, skateboards, and the Best Skateboard Brands. Knowing the construction as well as the working principle of each part also helps a lot in building one. 
For newcomers who want to get a customized skateboard but are afraid to buy separated components, they can go for a complete skateboard kit. If you have to consider the compatibility of each component carefully when purchasing them separately, all these problems will be wiped away with a complete kit. 
These kits provide complete skateboards but they are unassembled and you have to do it on your own. However, this choice can cost your budget badly but you can somehow get the hang of building a customized skateboard. 
The benefit of customizing your own skateboard is that you can get the excellent quality of each component. Also, you will be free to decorate the board as much as you want. To learn how to assemble a skateboard, I think you should check out the tutorials from pro skaters. 
THE RIGHT AMOUNT OF EXPENSE FOR A KID SKATEBOARD
A lot of beginners to skateboarding are kids or young teenagers; however, they are totally dependent on their parents when buying the first skateboard as well as their budget is limited. Some parents make mistakes when choosing an unqualified product at supermarkets or unreliable stores which can lead to fatal situations for their kids. 
Moreover, cheap skateboards cause so many problems which can be off-putting for kids who have just got into skateboarding. Parents may not want to spend too much money; therefore, I always advise them to get a quality mid-range skateboard. These complete skateboards usually cost from 30 pounds but parents can get more expensive ones. 
PRESTIGIOUS SKATEBOARD BRANDS
The very first company I want to mention here must be Plan B Skateboards. It was founded in 1991 in California, USA and the initial founders were Brian Johnson, Mike Turansky, and Jackson Kontzer. In 2005, the company went through a fresh revival under the lead of Colin McKay and Danny Way. 
The company offers thousands of products for every skating style with customized graphics and shock-resistant decks. Also, you can choose a wide range of wheels for customizing your skateboard but the price is a little bit high. 
Secondly, let's learn about Element Skateboards which is one of the best skateboard brands in the world. The headquarters is also located in California and the brand is well-known for its exquisite designs. While Plan B Skateboards offers high-quality products at a high cost, Element Skateboards are preferable because of the budget-friendly cost. 
Element Skateboards also have numerous skateboards and other accessories for skaters to choose from such as bearing lube, pivot cups, skate wax, grip tapes, etc. All skateboards made by Element use top-class material and all components are available for customization. 
However, trucks usually need replacement after a while, according to some pro skaters. Moreover, the wooden deck often chips if it has to take a hard impact so you may want to use an impact-resistant skateboard from Plan B Skateboards. 
CONCLUSION
Hopefully, this post can provide all you need when purchasing the first skateboard as a beginner. I know the decision can be hard to make but you can get the hang of it by stopping by a local skate shop.