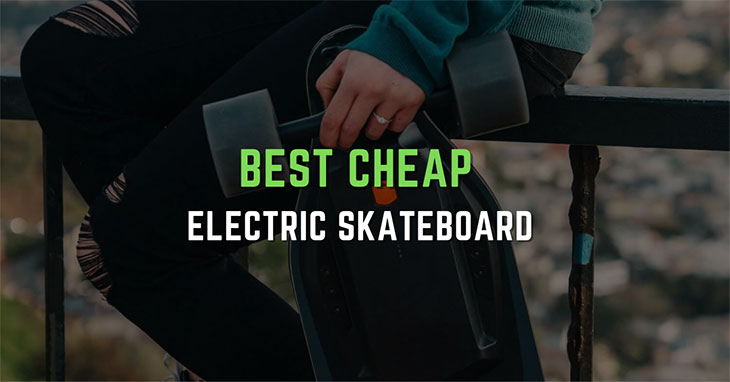 11 Best Cheap Electric Skateboard of 2023 (Top Budget)
Are you looking for an electric skateboard for your daily commutes?
Electric skateboards are usually quite expensive, and it's not easy to find an excellent cheap electric skateboard. If you're on a limited budget, you'll have to do quite a lot of research to find a good quality board within your price range.
Luckily, you're saved from doing all the extra work. We've done all the leg work for you. In this post, we'll be reviewing the top ten products to find the best cheap electric skateboard in the market.
In addition, we have also included a general guide at the end, so you know which features are essential to look into before purchasing an electric skateboard.
If you're curious to know more, we suggest you keep reading.
See also: 15 Best Electric Skateboard in 2023


Top 11 Best Cheap Electric Skateboard in 2023
As a response to the increasing demand for electric skateboards, new manufacturers are entering the skateboard industry. This also means that not every company is going to provide quality products.
To discern high-quality products from low-quality products, you need to know all the ins and outs of the product. The following reviews will help you do just that and help you pick the best affordable electric skateboard for yourself.
1.

Apsuboard F3 -$299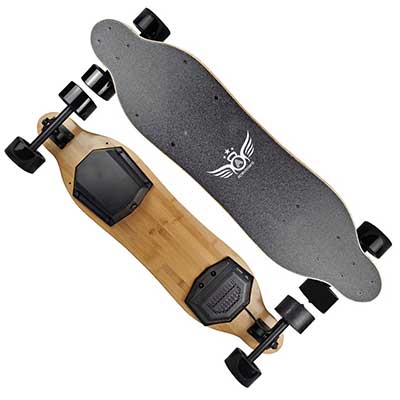 Not only is this a good electric skateboard for people on a budget, but it's also good for beginners. The great thing about this electric skateboard is that it is lightweight, unlike most clunky and heavy skateboards. So you can easily carry it around with you as well.
The Apsuboard F3 has only one motor, which might put some people off since other electric skateboards usually contain two. But the motor allows your board to go up to 17mph, which for beginners is pretty good. 
>> See also: Best Beginner Skateboard at SkateAdvisors
However, if you're looking for a faster board or are a more seasoned electric skateboard user, this might not be the best option for you.
On the other hand, if you're a newbie looking for a good board on a budget, this is a great pick. The Apsuboard F3 has a standard longboard shape with enough space for your feet to rest comfortably.
With this build, I can easily rotate my feet for smooth, precise, and safe speed control. With minor children, the product can also be used but must be under the supervision of parents. My son is 15 years old this year, and I gave him a test of this product. He is very interested and excited about this extreme sport.
Although it only has a charging duration of 2 hours, that's enough to get you about 14km of ride time.
This might be a downside for some people, but it isn't too shabby. All in all, this is a great option for people that want a good quality electric skateboard on a budget. 
Specifications
Sam20R: 4.0AH     

Max Range:14km

Weight: 5.6kg

Max load: 120kg

Climbing angle: 15°

Size: 39.37×12.20×7.87 inches (1000×310 x200 mm) (LxWxH)

Wheels: 90mm*55mm
Pros
Good Beginner Board
Lightweight
Decent Speed
Cons
Only Has 2 Hours Of Charging Time
Verdict: The appearance of Apsuboard F3 -$299 has dispelled all the worries of beginners to electric skateboards like me. The product has a unique design, lightweight for easy training and better speed.
2.

Meepo V4 – $429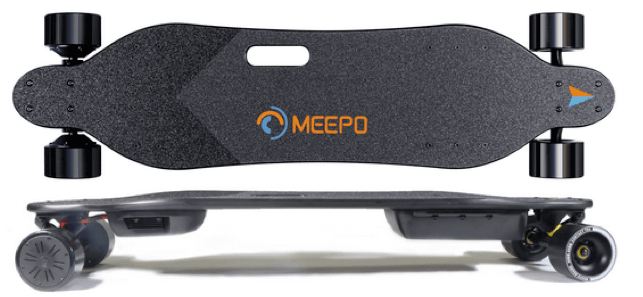 This electric skateboard is perfect for people that don't want to commute via bus or train. Instead of taking crowded transport, you can easily commute using this skateboard. It's got two powerful hub motors and a top speed of 28mph.
You can get around 11 miles of ride time per full charge, which is pretty decent. It even allows you to ride slopes at a speed of 9mph. This electric skateboard works well on most surfaces, including rugged ground.
I tested this plank on the rocky road behind the house, and the results were surprising as it could smoothly slide over the rocks and did not cause any vibrations. Compared with ordinary skateboard models, this product is far better and worthy of your investment.
It comes with an M4 remote that allows you to control the speed and brake. Another unique feature about the Meepo V4 is that it has a handle that allows you to carry it around with ease. Although if you run out of battery, you don't have to worry since the Meepo V4 can be used as a regular skateboard too.
The PU wheels have a strong grip, are durable, and have removable sleeves if you want to replace them. Another cool thing about this electric skateboard is that the packaging includes skate tools and stickers as well. This is a great budget electric skateboard option.
Specifications
Brand: Meepo

Deck: Width 9 Inches

Material: Maple

Deck Length: 38 Inches

Color: Black

Durometer Hardness: 90A

Wheel Material: Polyurethane

Wheel Size: 90 Millimetres

Item Weight: 17.2 Pounds

Load Capacity: 300 Pounds
Pros
Has Predictable Brakes
Handle For Easy Carrying
Comes With Skate Tools
Moisture And Dust Proof
Cons
May Have Issues With The Remote
Verdict: This skateboard model can be replaced as a means of transportation to support your travel perfectly. With a unique texture, this model is relatively easy to navigate the movement and perform direct braking. And that is the advantage I like the most about this product.
3.

Apsuboard V3 – $339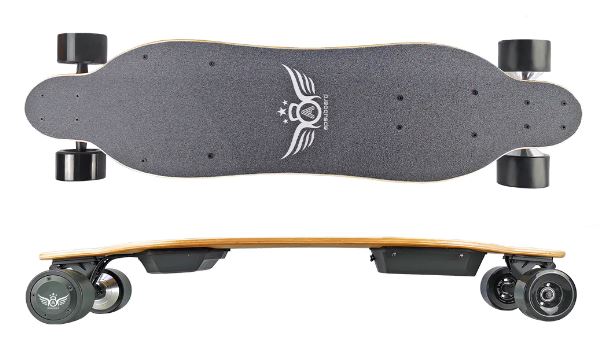 This is another budget board with a great reputation. The Apsuboard V3 has a Canadian maple and bamboo body with a standard longboard shape. 
With the standard remote that is included along with the board, you get about 20km of ride time on a full charge. But if you choose the screen or hobbywing remote option, you can ride up to 40km/h at a max speed.
You're guaranteed a strong signal while riding so that each movement is smooth and precise. You can even brake and accelerate with ease. It's got two powerful hub motors which allow for a top speed of 28mph. 
This electric skateboard is also waterproof, but that doesn't mean that you should take it out in the rain. I do not recommend using this product when riding in the rain as it may malfunction the skateboard's electrical system. Or even cause a hazardous fire when you use it. In dull rainy weather, boards can be available for walking, but the duration needs to be limited to ensure the long-term sustainable quality of the panels.
Riding your electric skateboard in the snow or rain might be dangerous and might wear down your skateboard's motor as well. You can even go uphill on the V3 with ease and maintain a good speed while doing so. 
Like other Apsu Boards, this one is also pretty lightweight and can easily be carried around.
All in all, it's a decent board with good speed that you can get if you're on a budget. 
Specifications
Material: 7 layers Canadian Maple + 1 layer bamboo

Maximum load: 330 LBS (150 kg)

Size: 38″ x 9.5″ 

Battery Cells: 20R Lithium-Ion Battery 4.0 AH

Charging time: Approximately 2 Hours

Net weight: 14.77lbs (6.7Kg)
Pros
Three Remote Options
Lightweight Board
Several Speed Modes
Verdict: Skateboard material is the decisive factor for the overall product's sturdiness, stability, and sustainability. For this category, I recommend the Apsuboard V3 – $339 version made from strong, stable Canadian maple and bamboo. Accordingly, the product can last many years to serve your usage requirements well.
4.

Meepo Mini 2 – $429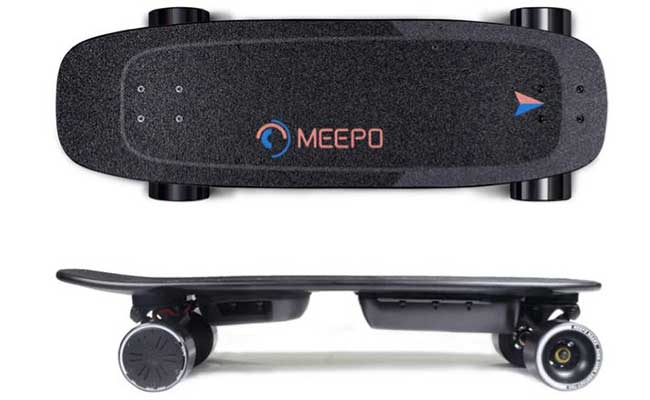 Big longboards aren't what everybody wants. Some people prefer smaller boards. The Meepo mini 2 is a great pick for people that like a lighter and smaller electric skateboard.
You get around 11 miles of range per full charge, allowing you to commute with ease. What's even cooler is that the top speed of this board is 29mph, which is pretty impressive. 
The deck is made with eight layers of Canadian maple, which is 30 inches long and is very durable. I like this material because it creates rigidity, certainty, and high durability. As proof, I have owned this board for 3 years but have not noticed any deterioration in the overall quality. From the texture, the surface retains its original appearance.
The look of this electric skateboard is also very aesthetically pleasing; with a shorter deck, you don't have to worry about dragging around a big clunky board. 
Another great thing about this board is that it can also be used as a regular skateboard. The M4 remote has all the speed and braking options and is easy to use.
It's also got a ducktail design which makes it easier to do tricks with this skateboard. The Meepo mini 2 is also pretty lightweight, so you can easily carry it around with you. So if you're someone that wants a smaller board on a budget, this is a great option.
See also: Best Mini Electric Skateboard
Specifications
Brand: Meepo

Deck Width: 9 Inches

Material: Maple

Deck Length: 32 Inches

Color: Black

Durometer Hardness: 100A

Wheel Material: Polyurethane

Wheel Size: 90 Millimetres

Item Weight: 17 Pounds

Load Capacity: 300 Pounds
Pros
Aesthetically Pleasing
Top speed Is 29mph
Duck Tail Design
Verdict: I'm always looking for a light and small electric board because it can make it more convenient and flexible for me to practice and store. And the Meepo Mini 2 – $429 is the best option for you. This board has an elegant, sophisticated design with a beautiful, eye-catching black cover. It should be the top priority for your investment.
5.

MAXFIND MAX2 PRO – $449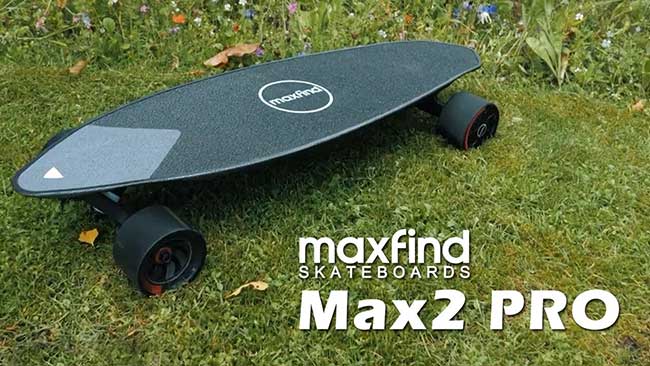 This aesthetically pleasing electric skateboard has a durable diamond cut deck and two powerful 600W hub motors. For its price, this electric skateboard definitely has a lot of great features. You get around 12 miles of range per full charge and a top speed of 24mph.
The Maxfind Max2 Pro was designed especially for college students who are looking for an easier way to commute. The board itself has a carbon fiber coating to provide extra durability. In addition, the hobbywing remote allows you to control the speed and breaks easily.  
I appreciate this feature's convenience, enabling each trip navigate more accessible and more accurately. Thereby, it minimizes unwanted injuries for those new to electric skateboards for the first time.
The packaging includes the usual items like a manual and charging cords. But it also contains a lanyard for your remote and a skate tool. 
This is a great option if you're looking for a high-quality board on a budget.
Specifications
Speed:

24 Mph / 38 Kph

Range:

12 Miles / 20 Km

Hill Climbing:

28%

Motor Power:

600W*2

Dimension: 31(L), 10.6(W), 5(H) Inch / 80, 27, 12.5 cm

Waterproof Rating: IP65

Wheels: 90 mm / 3.5 Inch

Weight: 15 Lbs / 6.8 kg

Load: 220 Lbs / 100 Kg
Pros
Diamond-Cut Surfboard Deck
Carbon Coating
Powerful Motors
Cons
Flat Board Can Feel Uncomfortable
Verdict: If you want to move further, the MAXFIND MAX2 PRO skateboard is the perfect suggestion. This super product has an excellent buffalo battery system capable of traveling 12 miles per full charge with a maximum speed of 24mph. I find the distance it provides is much more than that and is suitable for you to go to school or work.
6.

Ownboard W2 PRO – $699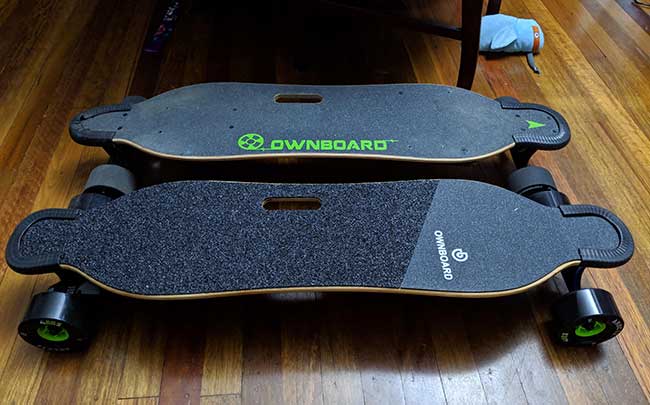 If you want a board you can learn on, this is a great option since it has a beginner mode speed level. The Ownboard W2 pro has multiple settings and a maximum speed of 28mph. You also get around 18 miles of ride time with every full charge.
The simple yet sleek deck is made of fiberglass bamboo and is pretty durable. I especially like this material; it seems more potent than regular maple. The durability, sturdy but not hurting the foot, is what I feel after experiencing this product. The dual belt motors are powerful and give you smooth acceleration. This may be an electric skateboard which is on the simple side, but it works like a charm.
Another cool thing about this electric skateboard is that the packaging comes with a rear LED lamp and even an extra belt for your motors. The Ownboard W2 pro is perfect for commuting or just cruising around. This electric board gives a smooth ride, and you can easily control your speed using the OLED remote.
The wheels on this electric skateboard are pretty cool since they absorb any shocks or vibrations while you ride.
Specifications
Max Speed: Beginner Mode -15.5mph (25 km/h); Middle Mode: 24mph (39 km/h)

Proficient Mode: 26-28mph (42-45 km/h)

Range on full charging: SAMSUNG 40T 8.0Ah: 15-18 miles(25~30 km) 

Max Load: 120 kg (265lbs)

Up Hill: 30%

Weight: 8.8 kg (19.5lbs)

Deck: Fiberglass Bamboo, 38*9.05 inches, Flex designed

Motor: 5255 Dual Belt Motor,160Kv 750W*2

Wheels Option: Shock-absorbing and comfortable 105mm cloud wheel
Pros
Amazing Shock-Absorbing Wheels
Rides Very Smoothly
Comes With An Extra Belt
Verdict: This electric skateboard can travel at impressively high speeds of up to 28mph, making every ride more engaging. For me, the shock absorption of the new wheels is the most significant advantage. It allows for a smooth experience on any surface.
7.

Possway T2 – $469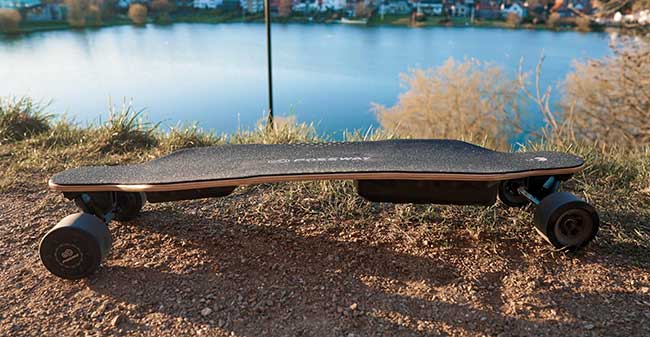 This electric skateboard is very durable since its deck is made with both Canadian maple and fiberglass. You get a top speed of 26mph and a maximum range of 21 miles which is great for a budget board. You can even go uphill with this skateboard as long as it has a 30% incline.
It is also lightweight, so you can easily carry it around with you. The board itself is very flexible and allows for smooth riding. Since owning this product, I have brought it to many different workout spaces. Each race also somewhat makes me more comfortable being able to complete my part successfully.
Specifications
Top Speed: 26 MPH

Range: 21 miles

Motor: 960 W

Drive Type: Hub

Wheels: 90 mm
Pros
Durable And Flexible
Lightweight
Good Top Speed For A Budget Board
Verdict: The Possway T2 is my collection's best durable electric skateboard. It's made with a combination of maple and fiberglass materials. This version is also highly light to facilitate your use and storage.
8.

Lycaon GR – $365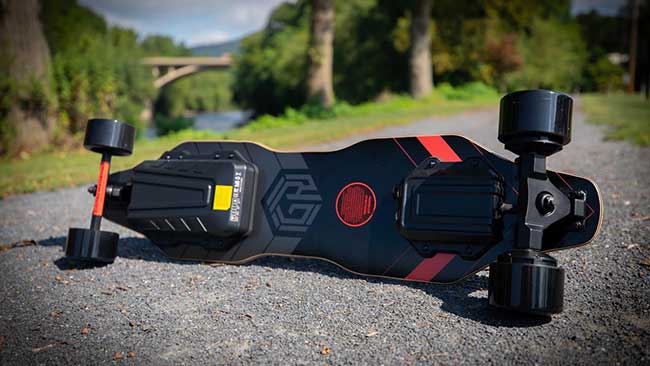 The Lycaon GR is another great cheap electric skateboard on this list; the Lycaon GR has a top speed of 23mph, with around 15-18 miles of range per full charge. It has got two powerful hobbywing motors that give you the best speed. In addition, the PU wheel sleeves are durable and can be easily replaced.
The great thing about this electric skateboard is that not only does it work well, but it also is very aesthetically pleasing. It has a grey and black deck which is decorated with the GR logo. I appreciate this creativity from the brand, making each product look more professional and attractive. Thereby, it will make you stand out the most in the eyes of everyone. You'll find that the remote is also easy to use, with several speed settings.
This is a simple yet good-quality option when it comes to budget electric skateboards. 
Specifications
Dimension: 37" / 94 cm (Length)

9" / 23 cm (Width)

0.5" / 1.2 cm (Thickness)

Weight: 18.9 lbs / 8.6 kg

Max Load: 220 lbs / 100 kg 

Wheels: 90*62mm SHR78A
Pros
Aesthetically Pleasing Board

Powerful Hobbywing Motors

Decent Speed
Con
Verdict: The Lycaon GR electric skateboard is built with a powerful motor, allowing up to 18 miles of travel per full charge. Compared to the models I have used, this product is the best, with a desirable delivery distance.
9.

Backfire G2 Black – $399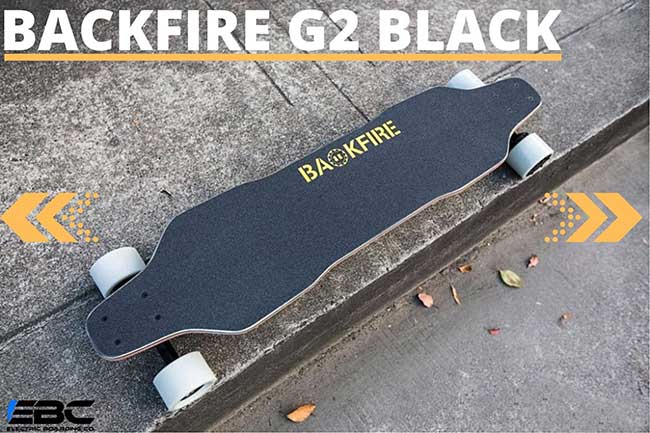 Another great budget electric skateboard with two hobbywing motors is also a great pick for beginners. It's got a decent top speed of 24mph and a range of 12.5 miles, which is lesser than most electric boards of this range. 
This board is perfect for people who either want to learn how to use an electric skateboard or just use it as a hobby. 
The tires and motors are replaceable, and the packaging comes with skate tools. Overall it's a great practice board and is also pretty durable. Indeed, it is more durable than I expected. Up to now, I have used the product for 2 years but have not noticed any degradation from the material or operation.
Specifications
Wheels: PU Tire Hardness 83A SHRAA 96mm Diameter

Truck: 7 Inch Front Truck, New Back Rear Truck

Motors: Super Power Hobbywing Motors

Top Speed: 24mph / 38kph

Battery: 42V 5.2Ah, 187Wh, Changhong Sunpower Cells

Range: 11-12.5miles / 18-20km (80kg rider S mode 30km/h speed flat road)

Independently replaceable tires and motors, low maintenance cost

Charging Time: 3.5 hours
Pros
Perfect For Beginners 

Lightweight 

Has A Waterproof Battery Seal
Cons
Very Low Range 

Long Charging Time
Verdict: By experiment, I was completely convinced by the performance of Backfire G2. It has super impressive water resistance. Under light and moderate rain, the product can glide easily at a maximum speed of 24mph without affecting the overall quality of the product.
Buy it on Backfireboards.com →
10.

SWAGSkate A.I. Penny Board – $199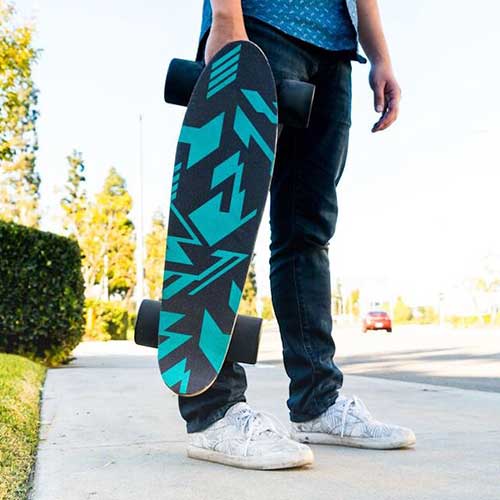 View at Swagtron || View at Walmart
This electric skateboard is extremely affordable and also portable due to its small size. Unlike longboards, penny boards are smaller and more lightweight. In addition, the AI technology this board uses allows it to remember your riding style so that you can cruise comfortably.
Another great thing about this board is that you can control it from your phone; no remote is needed. This feature convinced me and helped me be more active in each ride and easily control the driving speed. However, this is more of a cruising board rather than a commuting one since the top speed is only 9.3mph.
Specifications
App: Yes

Range Per Charge: 5.6 Mile Range

Speed: 9.3 mph
Pros
Very Affordable

Can Be Controlled With Your Phone

Portable
Con
Not Suitable For Commuting
Verdict: Compact in size, small in size, SWAGSkate AI Penny Board will make navigating your favorite side streets easy. Even if it's an alley, you can still go around most conveniently. And that's what I like most about this electric board.
11. Backfire G3 – $599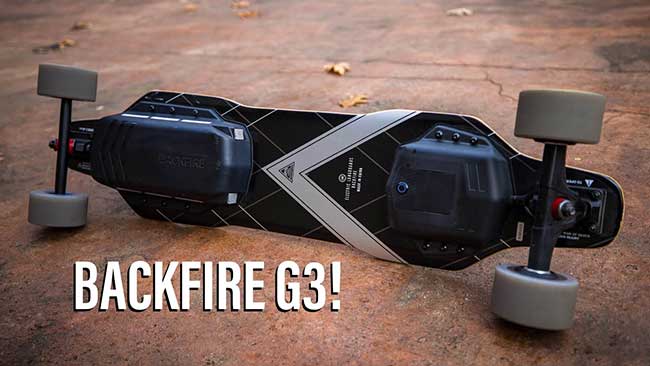 Another great electric skateboard from backfire has some pretty decent budget boards. This one is really cool since it has LED lights, so you can even ride it during the night. In addition, the USB charging port allows you to charge your board no matter where you are.
It has a durable deck made from bamboo and maple, and it's flexible too. You get a top speed of 28.5mph and a range of 18 miles. This is a decent board to get if you're on a budget but still want excellent quality. I especially enjoy this product's performance; it is flexible, smooth, and super stable for all your activities.
Specifications
Range: 24-30km / 15-18.5miles (80kg rider S mode 30km/h speed flat road)

Speed: 46 km/h / 28.5MPH (Acceleration as fast as belt-driven system)

Battery: 50.4V 260Wh, Changhong Sunpower Cells (Equivalent to 42V 7.2Ah-7.5Ah)

Motors: 450W X2 Ultra-High Power Ultra-High Torque Hub Motors
Pros
LED lights

Durable Deck

Easy Charging Option
Con
Verdict: The Backfire G3 model has a unique design with integrated bright LED lights to help you easily navigate low-light conditions. This product has a surprisingly high speed of 28.5mph to make your every ride more engaging. I think you should choose this product for your top investment because it is worth it.
Buy it on Backfireboards.com →
Buy it on Electricboardingco.com →
Buying Guide for Best Cheap Electric Skateboard
Now that we've looked at specific products and their features let's take a general overview of electric skateboard features.
Here is some basic information you need to know if you want to find the best budget electric skateboard for yourself.
Power
Unlike traditional skateboards that require constant peddling to move, e skateboards have an electric system that makes them move. This system comprises a battery and a motor.
While you can still ride some electric skateboard with the motor and battery switched off, the real thrill of an electric skateboard comes when riding it at high speed. Generally, there are two types of motors:
Hub Motor
Hub motors are more recent in comparison to belt motors, but they're becoming more common in electric skateboards. The hub motor is located inside the wheel and doesn't produce a lot of noise.
Belt Motor
Belt motors aren't as efficient as hub motors. They use a gear-pulley system to get the wheels to spin. The belt motor is located directly under your board, and you can see it. As it has nothing protecting it, it's likely to get damaged easily.
Brushed vs. Brushless Motors in Electric Skateboards
Another term you might come across while looking for cheap fast electric skateboards are brushed and brushless motors. If these terms are confusing, don't worry. We'll example in simple terms.
Brushless Motors
Brushless motors are highly efficient. They have a long lifespan and don't require a lot of maintenance. Plus, they don't produce much noise.
However, brushless motors tend to be more expensive.
Brushed Motors
Brushed motors are great if you want to skate off-road or on bumpy trails. They're also cheaper compared to brushless motors and have a high-speed range.
However, they're quite noisy and require regular maintenance.
Other Things to Consider
Generally, electric skateboard motors have a power range from 250W to 1000W. The higher the wattage, the higher the price.
Also, keep in mind that some electric boards have single motors, while others have dual motors. The latter usually means more power. However, it also depends on the wattage of the motor and the power of the battery.
Electric skateboards usually use lithium-ion batteries. When looking at battery specifics, here are some terms you will come across:
Voltage (V)
The voltage determines the torque and the range of your board. If you want decent torque and range, we suggest you look for batteries with a high voltage.
However, remember if the voltage is too high, it might end up damaging the motor. Generally, you'll find e skateboard batteries with 36 volts.
Ampere (A)
If you want to check how much speed your board can provide, you should look at the ampere. Also, Ah stands for ampere per hour and refers to how much charge is inside your battery.
Ah also has an impact on the range of distance your board can cover. For instance, if your battery has 5Ah, your board will be able to travel for around 6 miles.
WattHours
This referred to how much power your battery contains in an hour.
Voltage Sag
All batteries eventually lose voltage. Their performance level reduces overtime. However, good quality batteries last longer.
If you notice that your skateboard isn't working up to its original potential after the battery goes below 50 percent, then chances are your board has a low-quality battery.
Your batteries are bound to last longer if you take proper care of them. For example, don't let your board charge for longer than the required time. Also, make sure you use the charger that comes with your board or if you're using a different one, make sure it's compatible with your board.
Performance
You can assess the performance of your board by looking at the maximum speed any range limit. The catch is that you will have to pick a priority between the speed and range. Going at a faster speed requires more energy, which means your battery might not be able to last for longer distances at high speed.
On the other hand, if you want to cover longer distances, you may need to sacrifice speed.
Before you decide to purchase an electric skateboard, you need to ask yourself if you want a skateboard that can go fast or a skateboard that can cover more distance.
You can find electric skateboards with a maximum speed between 10 mph to 30 mph in terms of speed. For range, skateboards can go up to 5 to 31 miles. However, keep in mind that as the speed and range increase, so does the price of the skateboard.
Given that you're on a limited budget, it's best to compromise and decide between speed and range.
Remote Control
If you need to go back or go around an obstacle, you can simply use your feet to help you paddle and maneuver on traditional skateboards. However, the maneuvering, braking, reversing, and speed selection on an electric skateboard are made with the help of remote control.
Given the variety of e skateboard models, the design and functions of remote controls also vary. Some may have LED displays, some may have a holder for your fingers, while others might come with a wrist band.
The important thing to keep in mind is the connectivity. Your remote needs to have a strong connection with your skateboard. You're basically controlling your whole board with this remote.
It could be very dangerous if your remote loses control and you can't maneuver your board.
Some electric skateboards also have a smartphone app that you can use to control your skateboard.
Most remotes are rechargeable, when you check your skateboard battery, be sure to check the battery of your remote as well.
Braking System
As mentioned earlier, electric skateboards are a bit different from traditional skateboards. On a traditional board, you can simply use your foot, to stop the board. However, since a motor powers an electric skateboard, you need to stop it in order to stop moving.
Hence, electric skateboards have an actual braking system built-in. As we described in the review section, some skateboards have a simplistic braking system. While for others it's more complicated, with three or four braking modes.
Usually, most brakes in electric skateboards are regenerative. This means they convert kinetic energy into electrical energy. In simple words, they convert movement into electricity.
Basically, the board can detect when it doesn't require energy from the motor and battery. For example, when you go downhill, the energy from the motor goes into the battery, charging it in the process.
Safety
No matter the type of sports, safety should always be your number one priority. As electric skateboards have grown in popularity, a lot of new manufacturers have entered the market. Not all of these manufacturers promise high-quality products, so you need to be very careful when selecting a skateboard.
One way to ensure the safety of your skateboard is to ensure that the battery is UL certified or has been tested properly.
In addition, you can ensure safe use by trying not to overcharge your battery. Use the charger that comes with your board or a charger that is compatible.
While learning how to use an electric skateboard is easy, it doesn't mean you ignore the safety steps. If you're a beginner, it's best to start at a slow speed while wearing the proper safety gear.
We also suggest practicing on soft ground or at home before you stroll down the streets. Once you're comfortable with moving on the board, you can take your board outside for a cruise.
Brand Service and Reputation
The quality of a product can sometimes also be determined by the quality of service and the manufacturer's reputation. You can also learn a lot about a brand and the products they sell if you check out the review section.
See also: Best Skateboard Brands
Say, for instance, your electric skateboard arrives damaged, or it stops working after the first few days. The first thing you'd normally do is contact customer service. If they don't respond or aren't useful, you'll waste your time and money.
Therefore, it's useful to look at customer reviews before you purchase anything.
Other than the brand reputation, it also helps if you purchase a product that comes with a warranty. If an unfortunate situation arises where your board is causing trouble, you can utilize your warranty to sort through the problem.
Durability
Since you're already making a pricey investment, you need to make sure your electric skateboard is long-lasting.
To ensure that it lasts long and can hold up against impact, you need to look at your board's different components.
Deck
The deck is usually made of various materials such as wood, plastic, ceramic, and fibreglass. Skateboard decks also have multiple layers that make them more robust.
Particularly for electric skateboards, manufacturers usually sandwich layers of maple wood between layers of fiberglass or other materials. This makes the deck more sturdy and flexible.
Wheels
The smoothness of your ride is dependent on the quality of your wheels. If your wheels are high-quality and have good lubricated bearings, you'll be able to smoothly glide across all types of surfaces.
We also suggest trying to get wheels that are shock absorbent, as they make it easier to ride over uneven surfaces.
Trucks
Most trucks are made of steel, but you should ensure your board's trucks are made of good quality steel. Usually, manufacturers clearly state the type of steel that is used. If you can't find any information on it, chances are that the trucks may not be from a reputable brand.
Good quality trucks are important as they connect your deck to your wheels. They are also crucial for maneuvering your skateboard.
Price
Lastly, and most importantly, you need to come up with a middle group between your requirements and your budget.
Given that you're on a limited budget, you can't get every feature you want. You need to sort your priorities and decide which features are important and which aren't.
Some questions you can ask yourself are:
Do I need a skateboard that covers larger distances?
Do I need a skateboard that is fast?
Should my skateboard be light-weight?
Do I need a water-proof skateboard?
Conclusion
Finding the best cheap electric skateboard is not an easy task. Luckily, we're here to assist. By now, you should at least know all the basic information about electric skateboards. You should understand the different types of motors and battery requirements that are suitable for your needs.
Also, don't forget to look at the quality of the components and the remote control connectivity.
After going over some of the best products in the market, our favorite was the Voyager Neutrino Compact Cruiser Electric Skateboard. Not only is the skateboard water-resistant, but it's light and portable, making it suitable for commuting from one place to another.
In addition, it is suitable for riders of all skill levels. Regardless of whether you're a beginner or a pro, you'll have no trouble with this board. Plus, the remote helps you keep track of the battery. If you have any issues, you can immediately contact the customer service, and it is very responsive.
We hope our post helped you find the best affordable electric skateboard for you.