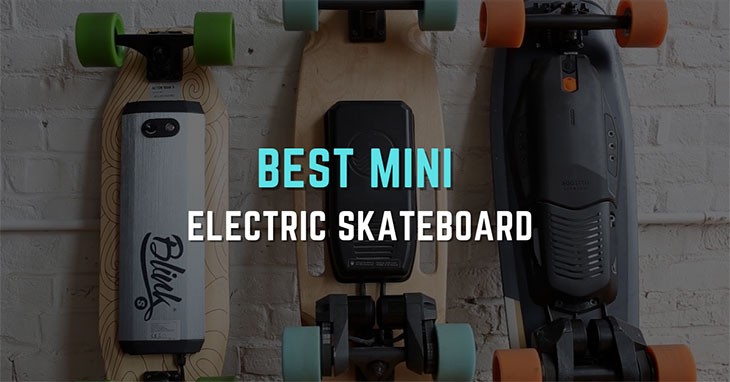 Top 8 Best Mini Electric Skateboards (Tested in 2023)
Several e-board brands are introducing mini electric skateboards besides the standard ones. These compact and light models make them a great fit for commutes to college or work. 
Additionally, they are superb for recreational purposes too. 
But don't let their lightweight and small size fool you; small e-boards have exceptional speed and power. 
While the longboards are bulky to carry around, mini e-boards can fit into your backpack. We'll uncover defining features of the top models to help you choose the best mini electric skateboard for yourself.   
See also: Best Electric Skateboards || Best Cheap Electric Skateboard || Best Electric Skateboard Under $500


Top 8 The Best Mini Electric Skateboards
Electric skateboards offer an eco-friendly travel option and give an effortless ride. Besides, they are highly enjoyable – a factor that youth definitely loves. 
The growing popularity of e-boards is compelling brands to produce new, varying models with unique features. As such, the competition in the e-board industry is getting more fierce. 
Mini electric skateboards are yet another variant to keep up with the competitors. They are portable, light, and offer a comfortable ride. 
We've curated a list of the top mini electric skateboards to help you decide. 
1. Meepo Mini 2 – $429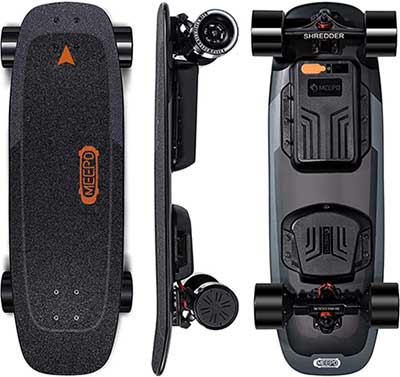 Meepo Board is one of the most popular Chinese skateboarding companies. The firm has sold over 120,000 e-skateboards around the world. 
Meepo Mini 2 is another effort by the company to cater to the needs of skating enthusiasts. The board weighs only 16 Ibs, making it a great option for those who do not like bulky e-boards. 
Though the e-board is light in itself, it offers a weight limit of up to 330 Ibs!
But if you weigh more than that, the board's performance will reduce automatically. 
Meepo Mini 2 comes with two 540 W hub motors and offers a standard range of up to 11 miles. The extended version, however, allows 20 miles per hour. 
If you cruise more often, you can charge your e-board quickly because its charging time takes only 2 hours which is a lot less than other e-boards on the market. 
The deck comprises 8 layers of Canadian maple, making it strong and flexible. With this advantage, turning, pushing, and moving my legs is no longer too difficult for me.
If you prefer more powerful motors and a bigger battery, you can go for the pro version. But, it will add up to the costs – of course. 
The only downside is that the company is based in China, and the shipping time can take around 10 days. But the company offers delivery free of charge in the majority of countries, which is a plus. 
Pros
Super strong and fast
Fast charging
Easy to carry around
Cons
Gets unstable on rough pavements
Bottom line: Previously, I was skeptical about the actual quality of products from China. But the series of advantages that Ancheer Mini Electric Cruiser's series of benefits has wholly changed my prejudice.
2. Vestar Mini – $499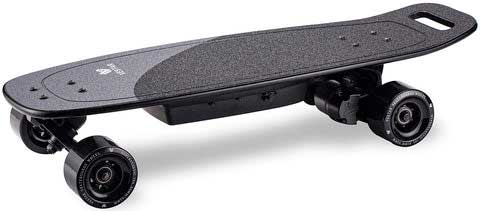 Vestar Mini is another best mini e skateboard on the market. The company was founded in 2018 to provide top-quality electric skateboards around the globe. 
Vestar aims to introduce innovative technology to make their e-boards stronger, faster, and safer. 
The excellent performance and super portability of the Vestar Mini series led the fans to name it "light fighter." 
The e-board offers an impressive speed of up to 27 miles per hour and a range of up to 12 miles. The deck is made of 7 layers of Canadian maple, making it firm. Further, the metal case is reliable and solid. I have been using the product for quite some time. But surprisingly, the wheels and bushings show no signs of wear and need to be replaced.
It is one of the cheapest models among others on our list, making it a budget-friendly option. 
You also have the option to go for the Turbo (belt motor) version, but it goes slightly out of range. So, if you're looking for a mid-range e-board, we do not recommend this version.
The Vester Mini has a light frame, but it offers great performance and can withstand high speeds on hills. 
Pros
3 battery options
2 versions (hub and belt)
Excellent performance
Cons
Truck bushings are not too good
Bottom line: Vestar Mini is budget friendly and powerful as a light fighter. All of the above advantages make me love this electric skateboard model more than any other option available on the market.
3. Aeboard AX Mini – $419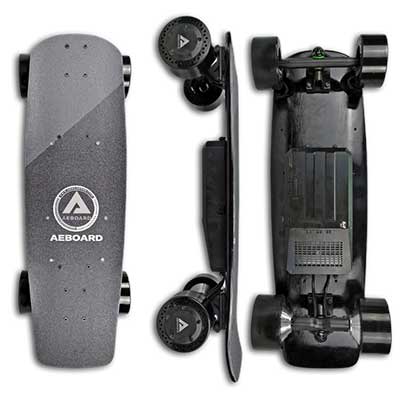 Aeboard is known for its fantastic and reliable e-skateboards.
The Aeboard AX Mini is the best small electric skateboard introduced by the company. 
It comes with three battery options, including Standard (4.0 Ah), Samsung 35E (7.0 Ah), and Fight travel battery (90W), offering 10, 15.5, and 5.6 miles speed range, respectively. I was most impressed with the Samsung 35E battery option. I used this battery throughout my workout, and after four hours in a row, the skateboard was still working.
The motor power gives you the climbing ability of 35% – slightly more than standard mini e-boards. 
What else is good? The deck is made with 8 layers of Canadian maple, offering a supple ride. 
Further, its honeycomb wheels give a stable ride on rough terrains where cruising gets bumpy otherwise. 
The company gives a 90-day warranty which makes the product more reliable. However, it's best to skim through the warranty details because they typically come with a few limitations. 
On the downside, Aeboard doesn't offer a return policy, even if the product gets defective during shipping or due to a manufacturing fault. 
Pros
3 battery options
Includes flight battery
Decent speed
Cons
Doesn't allow you to swap wheels
Bottom line: The biggest drawback of Aeboard AX Mini is the warranty service. However, up to now, the product quality has not disappointed me. So overall, the Aeboard AX Mini is still my favorite electric skateboard.
4. Ownboard Mini KT – $409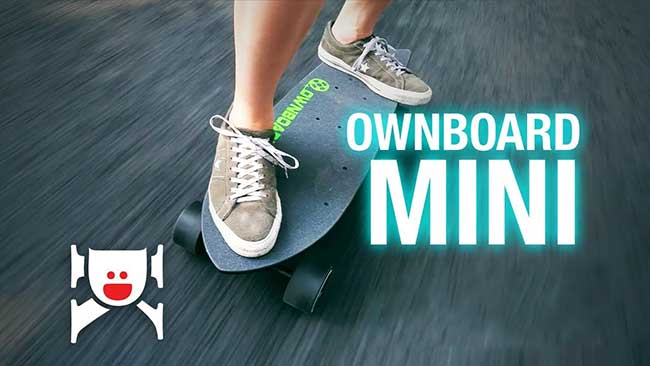 Ownboard Mini KT has a reputation for being the fastest mini e skateboard, but is it for real? Let's find out. 
The electric skateboard comes with two 250-watt motors. Yes, it isn't much compared to other top-end boards, but the compact design offers the top speed of 25 miles per hour. 
It comes with three types of lithium batteries: 8.1 Ah, 7.0 Ah, and 4.0 Ah. 
Also, its kicktail design and 8 layer maple deck make it both sleek and sturdy. The kicktail design gives you a smooth ride through bumps and hurdles on the road. 
What else is good? You can exchange the elastic PU wheels. 
The board originally comes with 90mm wheels, but you can replace them with bigger ones for a more comfortable riding experience. 
The charging time is approximately 3 hours which isn't quite impressive. However, the package comes with a rear LED light – a unique feature that rare mini boards include. In addition, the product lasts a long time on a single charge. So I don't mind waiting three hours to charge this skateboard model fully.
Ownboard Mini also offers a stable ride uphill. 
Pros
Comes with an LED indicator
Excellent range and speed
Kicktail design
Stable ECS
Cons
A little heavy compared to others on the list
Bottom line: I am always looking for electric skateboards that move at high speed. And Ownboard Mini KT is one of the fastest products I have ever experienced.
5. Maxfind Max2 Pro – $449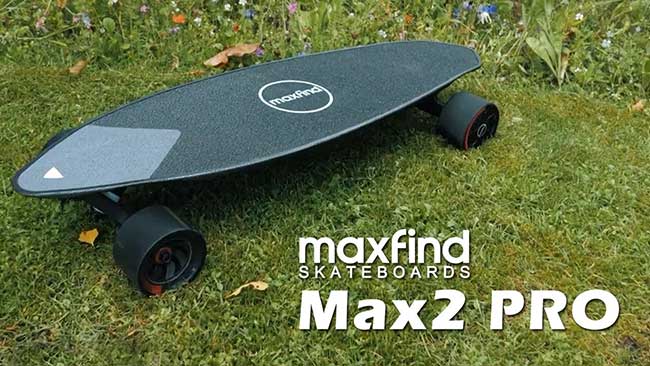 Maxfind Max2 Pro is yet another best mini electric skateboard. It includes the option of two motors: dual and single.
The dual-motor offers a top speed of 24 miles per hour, while the single allows a maximum speed of 20 miles per hour. 
The hill-climbing capacity also varies in the two versions, with dual motors offering 20% hill climbing capacity and a single motor allowing only 20%. 
If you're a professional skater, a dual-motor is the best option for you. However, beginners willing to go slow can opt for a single motor. I donated the single-engine skateboard to my nephew. And the boy always favors using the product to move slowly around the campus.
Maxfind Max2 Pro comes with an IP65 waterproof rating which is a plus. However, it's best to avoid riding the board in the rain. 
Even the top e-board brands do not recommend cruising in the rain. 
The waterproof model simply signifies that your board will withstand the occasional splash of water on the road. 
The board's deck has a carbon fiber coating, making it UV resistant. 
Pros
Diamond cut deck
600 W super powerful hub motors
HOBBYWING ECS makes it energy efficient
Cons
Hill climbing capacity is not impressive
Bottom line: I highly recommend the single-engine Maxfind Max2 Pro because it is suitable for beginners. At the same time, I am also quite impressed with the excellent climbing ability that the Maxfind Max2 dual-motor skateboard brings.
6. Hiboy S11 Electric Skateboard – $219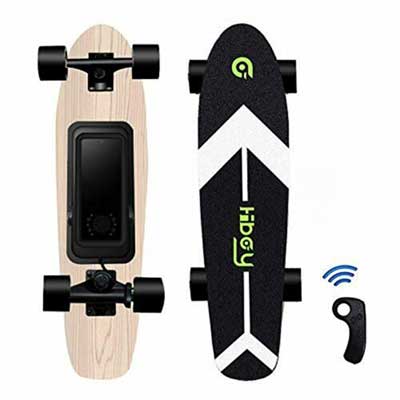 View at Hiboy || View at Amazon
The super cool size and ultra-lightweight make Hiboy S11 another impressive option in the list of mini e-boards. 
So whether you want to cruise in your neighborhoods or get around the campus, this board offers a comfortable ride. 
Because of its compact size and fun design, it is the best option for beginners and kids. 
Hiboy S11 offers an effortless ride because of its smooth braking and acceleration. My son learned his first skateboarding techniques on this product. Thanks to the above advantage, the boy has avoided a lot of injuries during the process of mastering the skateboard.
It comes with a 350 W motor that allows you to reach a speed of 12 Mph. Yes, it's a little less than other boards on the list, but kids and beginners will find it thrilling. 
If your kids are always glued to iPad screens, Hiboy S11 will give them a reason to step out and enjoy their playtime in a better, healthier way. 
The e-board also offers 4 different riding and braking modes. 
Each riding mode allows you to control the speed, and braking modes give control over the intensity of brakes, making the ride safer for your kids. 
See also: Best Kids Skateboards
Pros
Best for kids

Super affordable

Fun size

4 riding and braking modes
Cons 
Slow speed and poor range 

Not suitable for pros 

Not designed for hill climbing
Bottom line: I gifted the Hiboy S11 Electric Skateboard to my 8-year-old son. And now, the product still accompanies the boy in learning and mastering this exciting sport.
7. Yecoo MT Mini Electric Skateboard – $399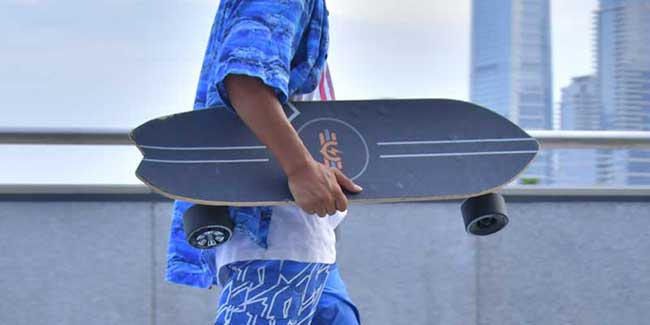 The Yecoo MT Mini e-board package comes with wireless remote control, adapter and charger, two wrench tools, a user manual, rear LED light and a completely assembled MT e-board. 
This super stylish board is equipped with a brand-new ECS, adding a whole new experience to your ride. 
The remote control includes a display screen to operate the ride while on the go. With Yecoo MT Mini, I always master speed and direction when performing skateboarding techniques.
The electric skateboard is equipped with a 540 W dual motor that allows a top speed of up to 25 miles per hour!
Besides, it comes with a regenerative braking system that recovers energy during brake, reducing energy consumption. 
If you ride more frequently in a day, you won't have to wait long hours to get it charged since it takes only 1-2 hours to charge fully. 
The deck comprises 8 maple layers giving it a compressive strength and increased hardness. 
Pros
Brand-new generation of ECS

Powerful motors

Offers a basic waterproof treatment inside and outside
Con
Lacks shock absorption due to small PU wheels.
Bottom line: Yecoo MT Mini supports remote control, impressive speed, reduced energy consumption, and is quickly fully charged. This product is one of the few options with all the features I always look for in a mini electric skateboard.
8. Backfire Mini Super Portable Electric Skateboard – $599
The professional skateboard company, Backfire was officially founded in 2009. The firm is dedicated to delivering first-grade yet affordable electric skateboards to pro and newbie skaters.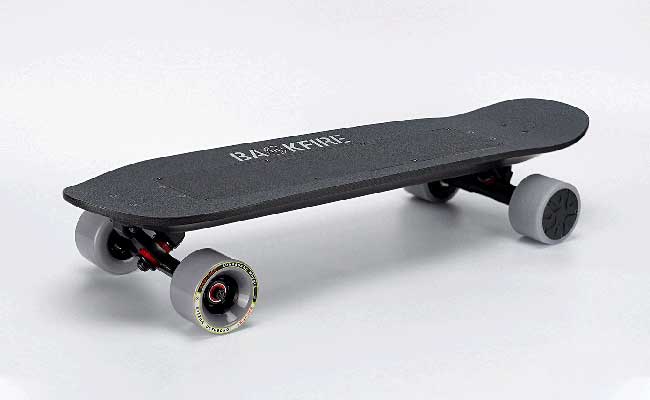 View at Backfireboards || View at Backfireboardsusa
Backfire Mini is just another attempt by the company for skateboarders who prefer small, ultra-lightweight boards. 
This skateboard is best for city commuters, weighing only 13 Ibs. 
It comes with two 450 W hub motors and Samsung batteries that give high power and efficient speed. The deck is made from carbon fiber, and it's deep concave shape offers a comfortable ride. The sunken floor is a bit out of control. But in return, I quickly performed kickflips and landed in the right place with a relaxing deep recessed design.
The board originally comes with an 85 mm wheel size, but you can purchase bigger ones if that makes cruising more stable for you. 
The IP rating of Backfire Mini is 65, making it somewhat water-resistant. But companies do not recommend you ride in the rain. 
The water can inevitably enter the board's internal components, destroying its motor and batteries. 
Further, it comes with a remote control, allowing you to switch between modes. If you're a beginner, we recommend you begin with low mode. Pros can, however, try turbo mode for fun. 
Pros
Ultra-thin and lightweight
Good range
Sleek design makes hill climbing easy
Cons
A little expensive compared to the other mini boards
Bottom line: Backfire is my favorite skate brand that consistently delivers quality products. And the Backfire Mini Super Portable Electric Skateboard is no exception.
Buy it on Backfireboards.com →
Buy it on Backfireboardsusa.com →
Why Use a Mini Electric Skateboard?
With a range of fantastic options, you may be convinced to purchase the best small electric skateboard, but what good are mini e-boards anyway? 
E-boards were pretty long back in the day. However, manufacturers reduced the patterns and sizes over the years, and they became a hit.
The main difference between long and small e-board lies in their style, components (wheels, trucks), and sizes (width, length, shape). 
Here are a few top reasons for using a mini electric skateboard. 
A small electric skateboard is easy to carry. You can hang it with your backpack, place it inside your bag or hold them while on the go. Their compact size won't bother you when moving around. 

They are super lightweight, allowing you to undertake your skating actions easily. 

They are best for kids.

Small e-boards typically have large wheels and small gears, enabling you to accelerate faster. 

They are suitable to get around on a busy city street and switch directions.
Things to Consider When Purchasing an Urban Mini Electric Skateboard 
With so many e-boards on the market, choosing the best small electric skateboard can get pretty overwhelming. You cannot go on and purchase ANY e-board out there; you need to keep a few key factors in mind. 
Here are a few things to consider before purchasing your new e-board. 
Cost
How much money are you willing to spend on your e-board? 
Some of the small electric skateboards can easily break your bank. However, you'll find a lot of mid-range, cheaper options, too.
Note that an affordable e-board doesn't imply bad quality. Instead, skateboard companies strive to make the best boards for the lowest price possible. 
If you're short on money, e-boards like Vester Mini and Swagskate are some of the affordable options on our list.
Battery and Range
Typically, mini e-boards, being small, equip smaller batteries than longboards. Because the battery is small and there is no room for a bigger battery, you can't expect its range to be the best. 
So, before you purchase, make sure you get one with a powerful battery that offers a large range with a single charge. 
Weight and Portability
An e-board with its several components, including the deck, wheels, trucks, and specifically an electric motor, carries additional weight. 
However, mini e boards save the day with their light weight and portability. 
But not all mini e-boards weigh the same. You should check the weight of individual e board and compare them with other options to see which one is lighter. 
A light e-board will be small in size and hence portable.
Top Speed
Top speed thrills skaters, but not always. 
A few skaters like to go really fast. Others, however, prefer slower rides, soaking in the city atmosphere. 
If you're a beginner trying to learn basic skating techniques, it's best to go with an e-board at a normal speed – depending on your skill level. 
However, if you're a pro, you may prefer faster speeds. For that purpose, you can go for a fast e-board. Note that the fastest mini skateboards help you achieve the top speed of 28 miles. 
Motor Type
A few e-boards come with one motor, others are equipped with a dual motor, and some even have four motors for a more powerful cruising experience. 
Yes, four motors might sound enticing, but it also means your electric skateboard gets heavier. 
Motor types also include hub and belt motors. Hub-driven motors are typically more stealthy, quiet, and light. 
However, belt-driven motors have their perks – you can use normal wheels with them. 
But again, hub motors provide better hill climbing capacity and acceleration compared to the former.
Wheels 
Make sure the board wheels are not too small; otherwise, your ride will get terrible on rough surfaces. Opt for wheels with a suitable diameter. 
Air Travel
Your battery should not exceed 160 W if you're willing to take your e-board with you on trips when traveling via airplanes. 
Therefore, it's best to keep a removable battery with you.
Most e-boards are not meant for air travel because of more battery capacities. However, a few models out there are air travel friendly. Make sure you choose one if you want to take your e-board with you on a trip.
FAQ
Here are some common queries. 
Are Mini Electric Skateboards Worth Buying? 
Mini-electric skateboards are great for you if you prefer small, portable, and lightweight e-boards. Yes, they may have a smaller range compared to long e-boards, but you can still achieve the top speed of 26 miles per hour which isn't bad either. 
If you are a go-to skater and travel via skateboard to college or work, mini e-boards will suit you best. 
You can hold them or keep them in your backpack without hassle. Also, you'll find several affordable options. So you can get one without spending too much. 
Mini e-boards are definitely worth buying!
Is It Legal to Ride Mini E-Skateboards on the Road?
The laws do not care whether it's a longboard or a small one; we need to see whether electric skateboards are allowed on the road or not. 
The thing is, skateboarding laws vary per state. Therefore, it's best to check your individual state laws before coming to a conclusion. 
Secondly, skateboards are generally allowed – long and small ones both. 
However, most states do not recommend riding on busy streets as it's not safe for you or the traffic.
But you can always ride your mini e-board on the sidewalk, in a park, or on a privately owned property. 
Are Mini Electric Skateboards Suitable for Adults? 
Don't let the word "mini" mislead you. Mini-electric skateboards are for everyone, including adults. 
The deck of small boards is strong enough to hold additional weights without compromising the power or speed. 
If you want your kids to ride the e-board, you can go for the one with slow speed and small range. On the flip side, adults can go for the one with a more powerful range. 
Are Mini Boards Cheaper than Regular Electric Skateboards? 
Small boards don't indicate low prices. In fact, you are getting more benefits with a small electric skateboard: Good speed, decent specs, lightweight, compact size, and whatnot. 
Therefore, mini e-boards are not cheaper than the standard ones. You'll find some mini-boards more expensive than regular electric skateboards. 
However, you always have affordable options in both categories. 
Conclusion
We just can't get enough of the small electric skateboards. They are cute, portable, and easy to carry around. 
Whether you're looking for an affordable option or willing to pay some extra price, you'll find the best mini electric skateboard on our list that'll fit your needs. 
You can go for Vester Mini or Swagskate if you're looking for a budget-friendly e-board. Other than that, you can select any option from our list for an amazing riding experience.