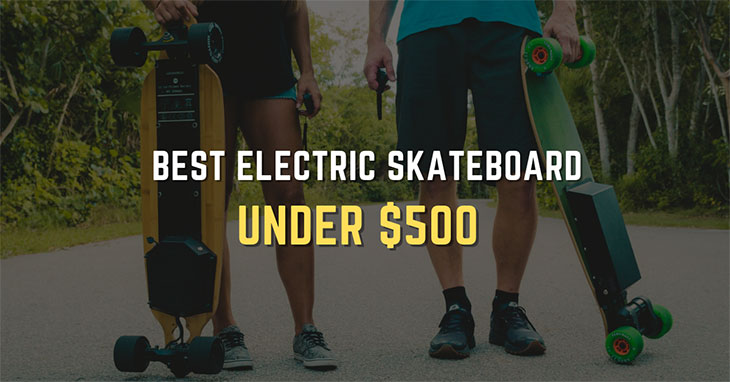 Top 8 Best Electric Skateboard Under 500 in 2023 (Bought & Tested)
Skateboarding alleviates stress, increases confidence, and above all, gives the freedom to get around independent of rules and conventions. 
Perhaps this explains why youth is turning to skateboard more than ever before. While this individual sport has been popular since the '90s, companies introduce innovative and unique features to entice skateboard lovers. 
Consequently, the prices go up too, and some first-rate skateboards easily run into thousands of dollars. 
But guess what? You can still find a high-performing skateboard without having to pay a hefty price. We'll help you find the best electric skateboard under 500.
So, before you give up on your dream to ride one, have a look at the guide below. 
See also: The Best Electric Skateboard | Chaep Electric Skateboard


Top 8 Electric Skateboards Under 500 
We all are living in a golden age of rideable technology. With every passing month, there are new and crazier rideable on the market. 
To help you navigate easily on a busy marketplace, we've put together a list of top electric skateboards under 500.  
These e-boards are lightweight, durable, and are made of high-quality materials with cutting-edge technology. 
Let's explore the nitty-gritty of some of the top-performing e-boards under $500.
Meepo Shuffle V4 – $429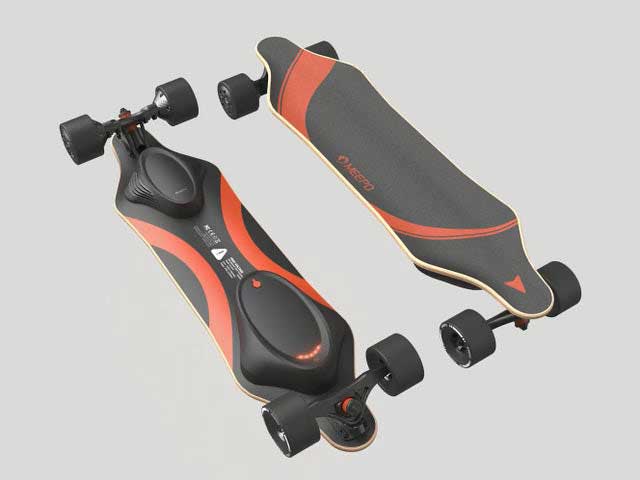 With an impressive top speed of up to 29 mph, Meepo V4 clearly outpaces several electric skateboards under $500. As soon as I own the Meepo V4, the powerful engine of this product is one of the most significant differences I have ever seen in a product under $500.
This super cool e-board is great for climbing over 30% inclines, allowing you to cruise uphills with ease. 
It is powered by 620 W powerful hub motors, which are 20% more powerful than competitors' 450-540 W electric skateboards. 
This e-board tackles hills pretty well. For instance, you can ride at high speeds without experiencing wobbles. 
The original version offers a range of 11 miles per hour, but the extended version can go another 9 miles – reaching 20 miles per hour. This might make you opt for the latter version, but guess what? Meepo V4 charges super fast. 
This e-board comes with a fast charger, allowing you to charge your phone in only 28-58 minutes! 
Pros
Fast charger available
Strong motors
Quality ER battery cells
Auto-start
Cons
Little uncomfortable to carry around
Verdict: If you're looking for a product with a powerful motor, I highly recommend the Meepo V4. I was impressed with the stylish design and budget-friendly price.
2. Aeboard AE3 – $399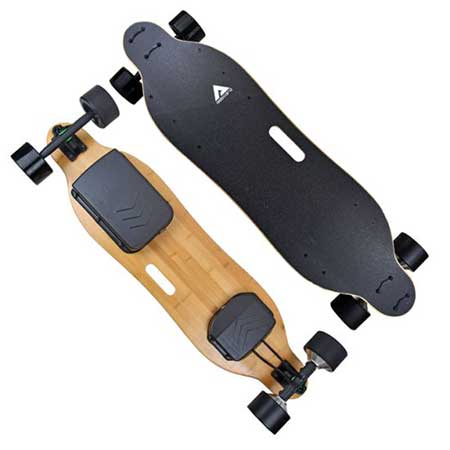 AEBOARD A3 offers versatility more than the best electric skateboard for under 500. The company offers up to three battery options, including 10S3P, 10S4P, and Samsung 30Q, providing a range of 11.8, 16.7, and 26.7 for 19,27, and 43 km, respectively.
The price range of all three batteries varies, too. If you're looking for maximum battery power, Samsung 30Q will suit you best. 
Further, the board's weight is only 19 Ibs, making it easy to ride and comfortable. I only need one hand to carry it around, even when I have to take all my stuff. The light weight makes the board less wobbly on the road and offers a smooth travel experience. 
The Canadian maple board is well-engineered to withstand high speeds.
It also features an LCD remote control that allows you to display information while on the go. 
What else is good? The AEBOARD AE3 boasts regenerative braking. 
That is, the e-board allows you to enhance your range by charging the battery cells while braking. 
The product comes with the power adapter and charge, wireless LCD remote and USB cable, one data infection cable, a T wrench, and the e-board, of course. 
It can withstand up to 330 Ibs and comes with a three-month warranty, which is another plus. 
That said, this electric skateboard isn't weatherproof which might be an issue for some.
Pros
Regenerative brakes
Wireless screen remote
Finely engineered board deck
Cons
90mm wheels pose a problem when hitting top speeds
Verdict: As a travel enthusiast, I'm always looking for a product with the most versatility in use. And the Aeboard is a perfect choice, making it easy for me to take it with me.
3. Apsuboard X1 Belt Skateboard – $449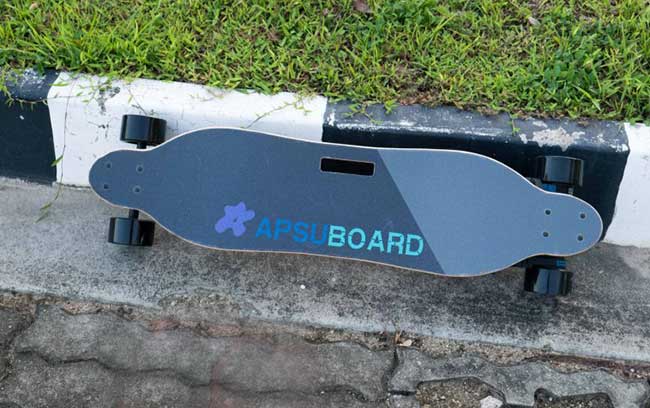 Apsuboard X1 is the only best electric skateboard under $500 with a belt motor system. 
It can reach up to 26 miles per hour, which is great news for professional riders. However, in my long-time skateboard experience, adjust the speed to 12.5 mph if you're a beginner to the sport. However, new riders should prefer riding on beginner's mode that reaches 12.5 miles per hour. 
You also have the option to ride on the medium mode that maxes out at the speed of 18.75 miles per hour. 
Absuboard X1 also offers two battery options, including the standard (20R 36V 8.0 Ah) and the extended (Sanyo GA), but, again, the price range climbs up with a pro model. 
The device has a low recharge time of 2.5 hours, making it a viable option for city commuters. 
Further, the board includes customized Hobbywing Electronic Speed Control (ECS) that allows smoother braking and acceleration. Nonetheless, it gives enough power to climb up the hills. 
The board and remote pair automatically when both are turned on. However, do not forget to turn the remote off after riding for safety purposes. 
Pros
90-day manufacturer warranty covers ECS, batteries, and motors
Includes a belt motor system
Offers three different speed modes
1 layer bamboo and 7 layers of Canadian maple offers durability
Cons
The extended version gets a bit pricey
Verdict: Overall, I saved most of my time because Apsuboard X1 has a speedy charging time. Besides, its quality and durability also make me very satisfied.
4. MEEPO MINI 2 – $429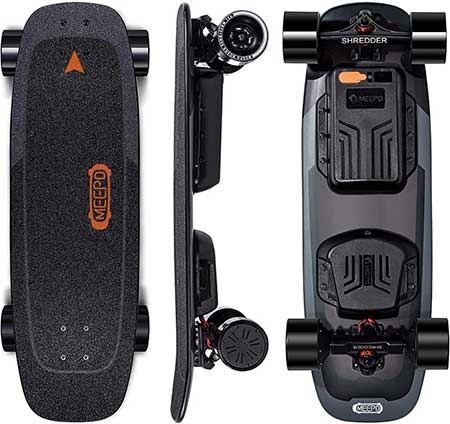 The MEEPO MINI 2 comes in two models: Mini 2 standard (the original version) and Mini 2 ER (the extended version).
The latter comes with dual 540-watt motors, while the former includes dual 400s. However, the ER version is heavier than the original model weighing 2 pounds more. 
Both models also differ in the top speed and range. For instance, the original model allows a top speed of 25 miles per hour, while the extended version has a top speed of 29 mph. 
Further, the standard MEEPO Mini 2 ranges up to 11 miles while the ER version offers 20 miles on average – that's one significant jump. 
The wheel size, however, remains the same for both versions. Besides, I am very impressed with the Meepo Mini 2, which helps me turn more easily and push my legs faster.
Overall, the specifications of the original version are great. But since there are always more, better options on the market, you might feel like purchasing the boasted version. 
If you can afford to pay $100 extra, you can opt for the latter. However, the standard version is more economical with pretty good features. We recommend you go for the budget-friendly, original version. 
Pros
Lightweight and portable
30% hill-climbing capacity
8 layers of Canadian maple
Offers a comfortable ride
3-month warranty
Cons
The extended version weighs a little more
Verdict: Overall, for less than $450, I quickly got myself a Meepo Mini 2 skateboard that is lightweight and portable.
5. Backfire G2 Black With Super Power Hobbywing Motors – $399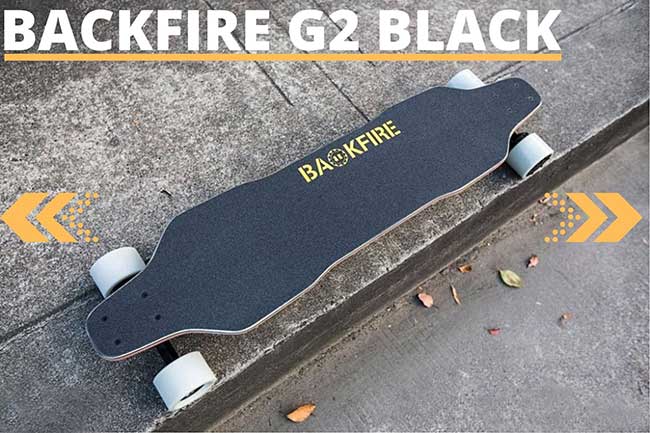 Backfire G2 Black is the updated version of the G2 e-board. In fact, I didn't notice a massive difference from the previous product, but it seems to have a more attractive unique design. It is hands down one of the most affordable electric skateboards out there.
The company has introduced several features to make it stand out among its competitors, like the Meepo – one of the most bought skateboards by e-board lovers. 
Though the Backfire company was officially founded in 2009, it has gained more recognition with the release of Backfire G2. The industrial design, more power, and better quality of G2 spread like a wildfire among e-board enthusiasts.
The company has sealed the battery with ABS plastic, making it dust-resistant and water-resistant. So, you can head out on rainy days without worrying about damaging your e-board's battery. 
What's more, you can view the battery, range, and speed all in one glance, thanks to its LCD remote control. 
These small yet significant upgrades are what make your riding experience much better. 
But wait, LCD remote and weather-resistant battery aren't the only bonuses; the company has impressed its customers with a 187Wh Lithium battery that provides a highly efficient electronic system and high voltage. 
On top of that, the battery lasts for a couple of hours, which is pretty good if you want to rove on your favorite street just to lift your mood. 
The company claims that the battery gives you a range of up to 12.5 miles per 20 km, which is another plus. 
Further, its 7-inch front and back trucks give you improved stability, particularly if you love to ride at high speed. 
The G2 board is powered by a pair of 400W ultra-high power motors. These motors will push you to the top speed, but you'll enjoy a low sound profile when riding the board. 
Lastly, Backfire provides full protection to your boards with 180 days warranty. 
Pros
Comfortable and lightweight 

6 months warranty

Premium-quality build

Powerful motor

Decent speed

Sealed and waterproof battery
Cons
No IP rating 

Limited extra features

 
Verdict: Backfire is my go-to choice when looking for a skateboard with a powerful motor. In addition, because the warranty period is up to 6 months, I am very assured when buying this product.
Buy it on Backfireboards.com →
6. Lycaon G12021 Electric Skateboard – $365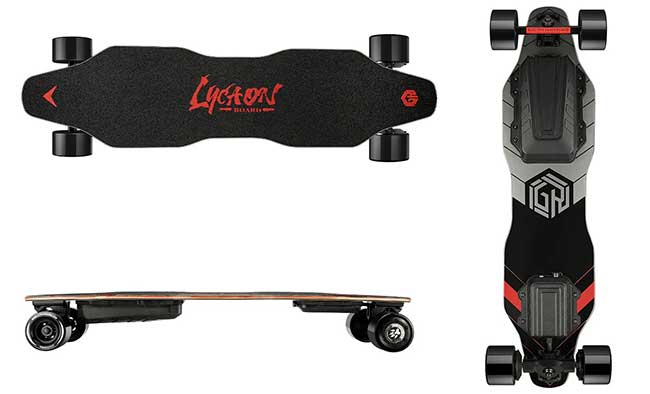 The Lycaon G1 2021 is yet another strong and flexible e-board under $500. For only this moderate price, I can adjust the skateboard with 4 modes to best suit my son. It comes with two powerful motors of 480 W that allow you to ride at a speed of up to 24 Mph. 
You can adjust the speed mode of the board to low, medium, high, and pro with 12 mph, 18 mph, 22 mph, and 24 mph speed, respectively. 
It consists of a grey background with lines at the bottom, making it less bulky visually. 
What else is good? It is compatible with bigger wheels allowing improved riding experience, particularly for rough ground conditions. 
Though the speed modes and speed are pretty efficient, on the downside, this board is slightly heavier and bulkier than others on the list, weighing up to 18.9 pounds. 
The charging time is 3-4 hours which might sound a little more to regular skaters. But the company offers a fast charger now, with an increased price, of course. 
Also, note that its maximum weight capacity is 220 pounds. So, if you weigh more than that, its performance will drop automatically. 
Pros
4-speed modes

IP rating (prevention against splash and dust)

Compatible with bigger wheels
Con
Weighs more compared to other e-boards on the list
Verdict: With a stylish and unique look, I did not hesitate to choose the Lycaon skateboard to give my son every birthday or Christmas.
7. Hiboy S22 Electric Skateboard – $369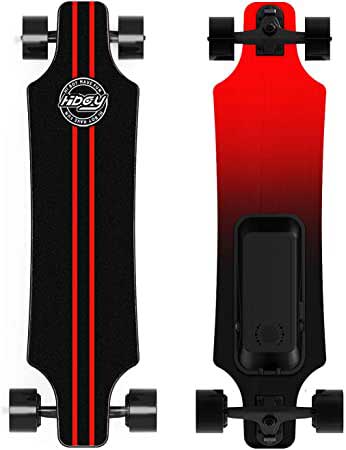 Hiboy S22 is yet another cost-effective option on our list. This e-board comes with a polished frame and chic red and black color combo, but that alone isn't a noticeable factor. 
Hiboy S22 allows a neat riding experience with its high-end performance. The 7-layer Canadian maple layers make it strong and give an authentic feel. 
Further, it consists of two powerful and brushless 350 W motors that allow you to ride up to 24 miles per hour – an outstanding speed considering the price. 
The range, however, is limited, boosting only 12.5 miles on average. Nonetheless, the speed and design coupled with a 2 hour charge time make it an ideal option for beginners and inner-city commuters. 
What's more, it allows double braking – manual and electric.
The wide deck allows enough space to take control of the speed. For this reason, I don't seem to have much difficulty or loss of control when using it, regardless of whether I'm a beginner or a pro. So whether you're a beginner or a pro skater, you won't have trouble getting a grip on Hiboy S22. 
If you love to cruise uphill, know that this e-board won't lose its power. Instead, it offers a decent power up to 20 degrees of inclines, which is pretty great compared to other models that typically cap out at around 15 degrees of depth. 
Lastly, its lithium-ion batteries last longer but make sure you prevent them from harsh weather conditions. 
Pros 
Cost-effective

Fast 2 hours charging time 

Decent speed 

Supports up to 220 IBS

Super lightweight (16.5 IBS)
Cons
Limited features

No IP rating 

Limited off-road functionality
Verdict: With a budget-friendly price, I didn't expect that I could own a product as good as the Hiboy S22. Besides, its quick charging time saved me most of my waiting time.
8. ONLYONE O-3 38" Electric Longboard With Wireless Remote – $539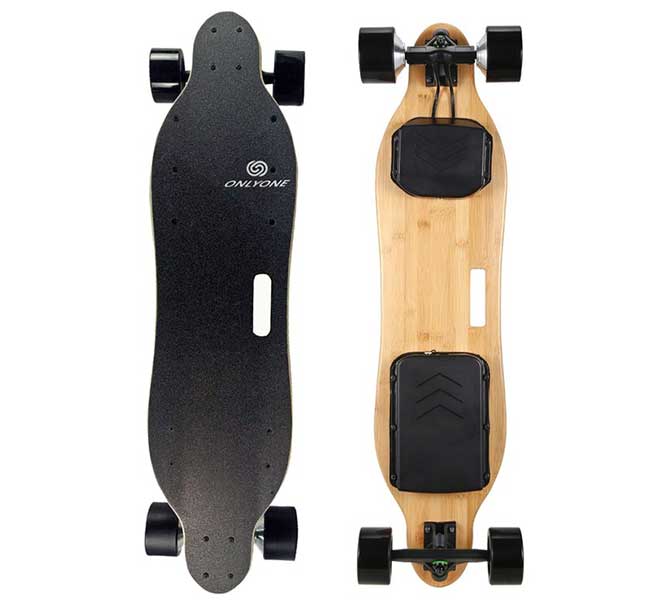 View at Onlyoneboard || View at Electricboardingco
The ONLYONE O-3 38" Electric Longboard took the skateboard market by storm and for good reasons. 
5 months within the system rating metrics, the e-board won the Editors' Choice Award for the best cheap electric skateboard, which explains enough why it's on our list. 
It is affordable, user-friendly, and offers a stable performance. 
The premium board comes with a 20R lithium-ion battery and offers three-speed modes. You can adjust the mode at slow, medium, and fast to enjoy 11,18, and 24 miles per hour speed. 
It is powered by a dual-motor, allowing an efficient and smooth ride. 
Further, it offers a climbing range of 30 degrees, which is sufficient enough to climb up the hills without hassle. 
The deck is made of 8 layers of Canadian maple, making it durable and long-lasting. However, I strongly recommend that you take the time to maintain it regularly to maximize the use of this skateboard. Also, it weighs around 17.8 which does not qualify for a super lightweight board, considering the other e-boards on the list. However, it isn't heavy either. 
If you love to cruise several times in a day, know its charging time is just 2 hours. 
The package comes with wireless remote control, T-wrench tools, adapter and charger, and the e-board. 
Lastly, it is the only e-board that comes strictly waterproof out of the factory. But that doesn't indicate you have to be careless with its usage. Avoid riding on icy or wet roads. 
Pros 
Award-Winning e-board

Less charging time 

Waterproof grade

8 layer Canadian maple 

3-speed modes
Con
Verdict: Steady performance is the perfect compliment I want exclusively for the Onlyone O338 inch. Besides, the dual motor also makes my use process smoother and more efficient.
Buy it on Electricboardingco.com →
What to Consider When Purchasing an Electric Skateboard Under $500 
With plenty of e-boards on the market, it can get difficult to purchase a durable and efficient e-board that doesn't break the bank either. 
Besides affordability, there are several other factors you need to consider when purchasing one. We'll uncover what you need to bear in mind when purchasing the best electric skateboard under 500. 
Also Consider: Best Complete Skateboards at SkateAdvisors
Cost
It's not surprising that e-boards are expensive. 
If you're looking for a high-end model, you'll stumble across e-boards for up to $1600 or more. 
Nonetheless, several electric skateboards are known for their cost-effectiveness and a decent build-in design. 
You need to opt for an e-board that is both affordable and functional. An electric skateboard made of cheap material and equipped with old technology will not perform optimally. 
On the flip side, a board with durable material and the latest technology will cost a lot more. After all, building an e-board with cutting-edge technology doesn't come cheap. 
We'll address what features contribute to the overall cost of an e-board and what you need to determine when purchasing one for yourself.
Brand Reputation
A brand typically builds its reputation by offering premium quality products to its customers. That doesn't indicate that a brand selling expensive e-boards is better than the one selling cost-effective ones. 
Instead, several companies are known for selling quality mid-range products. You need to know about the brand's reputation before purchasing your e-board. 
See also: Best Skateboard Brands at SkateAdvisors
Does it hold a good reputation in the e-board industry? Are its customers satisfied? You can always check for online reviews to get an idea about the brand's authenticity. Further, you can also get in touch with professional e-boarders to know about the company. 
Safety
You use an electric skateboard on different terrains at varying speeds, and there's a high chance it'll wear and tear over time. 
While an e-board wearing down after several years is pretty much expected, if your e-board gets damaged within a few weeks of purchase, it's a red flag. 
Therefore, make sure you go for a brand that takes charge of your e-boards safety. In that case, purchase from a brand that provides a warranty for its products. 
Besides, make sure the company offers customer service, too. Quality services indicate the broad vision of a particular brand and signify its future success in the industry. 
Battery Capacity
If you use an e-board to travel to work or college, perhaps you won't like the one that runs out of juice halfway to your destination. 
Therefore, it's best to consider the battery capacity when purchasing. Typically battery size indicates the performance of an e-board. 
That is, a larger battery allows you to travel to far-off places without running out of battery. Alternatively, if you plan to commute for fun and have no plan to cover large distances, you can go for a smaller battery size. 
The battery type and size greatly impact the price of an e-board. 
Deck Material
The aesthetics of the deck may appeal to you, but the type and material of the deck basically determine the board's performance. 
Typically, e-boards are made of bamboo material. However, a few come in a combination of different materials. 
E-boards with a flexible deck are more comfortable but get wobbly at high speeds. However, stiff decks make up for a better ride but might be a bit uncomfortable to ride upon. 
Range and Speed
Range and speed are the biggest concerns of cruisers, and for obvious reasons. Nobody likes slow speed and less range after paying the price for an e-board. Besides, it cuts down the fun of skating. 
As discussed earlier, the range is directly linked with the battery size and power. The more powerful the battery, the more range you can cover on your e-board. 
For instance, a few boards can cover up to thirty miles of distance with a single charge, and others might run out of battery after traveling as less as 13 miles.
Nonetheless, the e-boards on our list have more battery power, hence more range. 
Speed is yet another crucial factor, but the top speed of e-boards is somewhat negotiable since it's always better to ride at a medium speed. 
A few skaters love to cruise at high speeds, while others prefer to wander slowly, consuming the city atmosphere. 
If you're a newbie, we recommend riding at slow or medium-speed modes to avoid accidents. 
Drive Train and Motor Type
Your riding experience and performance are greatly affected by the strength of the motor. Professional skaters pay attention to the motor type more than anything else when purchasing an e-board. 
Typically, e-boards consist of hub motors or belt systems. On the other hand, a few use dual motors for better performance. 
Belt systems provide quick acceleration and high speeds. If you love to ride up and down the hills, know that belt systems will perform optimally. 
On the downside, they are a little louder and expensive compared to the hub motors. Also, they require more maintenance. So, you can't be cruising in the rain and expect your e-board to give its best. 
Hub motors are less expensive and more quiet compared to the former ones. Yes, their top speed might be less than the belt systems; they offer several other features. 
For instance, if your e-board runs out of battery, you can still operate and kick-start it like a regular board – a feature that doesn't come easy in belt systems. 
Weight and Portability
An electric skateboard's material, length, battery, and motor size contribute to its overall weight. 
Fortunately, you can easily learn about an e-boards weight and portability on the website you're purchasing from. Most companies display the information in the product description. 
If, however, you can't find it on the company site, you can google it individually. Most skaters prefer portable and lightweight skateboards, and for obvious reasons. They are easy to carry around and ride upon. 
Yes, their frame might make the ride a little unstable, but if you're a pro rider, it's just an insignificant factor. 
Waterproof
As the name suggests, electric skateboards have electronic parts, and cruising on the board in harsh weather conditions is not a good idea.
A little damage to the motor and your e-board will not work properly. 
Even the most popular e-board companies do not claim to make 100% waterproof products. But you can always go for an e-board that has sealed its inner components. 
Other than that, avoid cruising in rainy and snowy conditions. 
Comfort
The comfort of your e-board generally depends upon its weight and material. A few skaters find lightweight e-boards more comfortable than heavy ones. Some, however, do not mind a few additional pounds as they believe it offers them a stable ride. 
Deck material also adds or subtracts the comfort of the ride. A few decks offer greater flexibility; however, they become unstable when you reach the top speeds. 
Others are stiffer yet stable when you hit the top speeds. However, they might feel uncomfortable when you cruise over rough terrains. 
Several skateboard companies have introduced specialized tools like grip tape to reduce the instability and shakiness of the boards. 
Further, small and low-quality wheels also minimize the comfort level of the ride, making it shaky when riding through rough pavements. 
Typically, maple material is stiff but offers good control over the board. A few premium models include two layers of bamboo, making the ride even more flexible and comfortable. 
FAQs 
Are Electric Skateboards Under $500 Famous?
Anyone rarely has an unlimited budget, and it's pretty clear more people look for budget-friendly premium quality electric skateboards. 
Since e-boards under $500 are affordable and come with several unique features, they are famous among skateboarding lovers. 
The ONLYONE has won one of the best editors' choice awards for the best cheap electric skateboards, which explains enough how popular e-boards under $500 are. 
Also, the nine e-boards on our list are from some of the most popular electric skateboard brands. The companies have more expensive e-boards, too.  
Do Electric Skateboards Under $500 Have Good Quality?
Several electric skateboards under $500 have high-quality specs for their price range. A few are equipped with dual-motor systems offering a speed range of up to 26 miles per hour. 
Others are made of premium quality Canadian maple material that offers greater durability and flexibility. 
Further, most of these e-boards come with a warranty from the manufacturer, which is a good sign. It indicates that the product will last for the time frame given by the company, and if it wears down before that, the company has your back.  
A poor-quality e-board will never include a warranty. 
Further, most e-boards under $500 have sealed inner components, which makes them last longer and hence speaks volumes about their quality.  
How Long Does an Electric Skateboard Under $500 Last on an Average?
How long an electric skateboard under $500 lasts depends on several factors. Though most e-boards on our list include a warranty, that alone doesn't determine the life of an e-board. 
The way you handle, ride and maintain your electric skateboard matters a lot. If you are always riding at high speeds, your e-boards motor is automatically working more for optimal functioning. 
Further, riding at high speeds also indicates you running out of battery too often. The more you charge, the more there's a chance of its motor slowing down in functionality. 
You should use your favorite gadget, but don't overdo it. 
Also, if you are a careless rider cruising regardless of rain, dust, storm, or rough pavements, your e-board will wear down sooner than it actually should. 
Do not expect too much out of your e-board; after all, it's a machine, and you need to maintain it to keep it working optimally. 
Can You Ride an Electric Skateboard Under $500 in the Rain?
You can ride an electric skateboard in the rain, but if you don't want to damage its parts, we recommend you not ride one in the water. 
Riding an e-board in the rain might sound fun, but once that water reaches your e-boards internal components, it won't be fun anymore. Your e-board's motor and the battery will wear down in no time, and it will stop working. 
Even the most reputable brands recommend not to cruise boards in the rain. So, you better not. 
Closing Thoughts
Not all high-performing e-boards will break your bank. After all, the e-board industry is flourishing by leaps and bounds, giving skaters unique features in a cost-effective electric skateboard. 
Hopefully, our list will help you pick the best electric skateboard under 500. 
Related post: