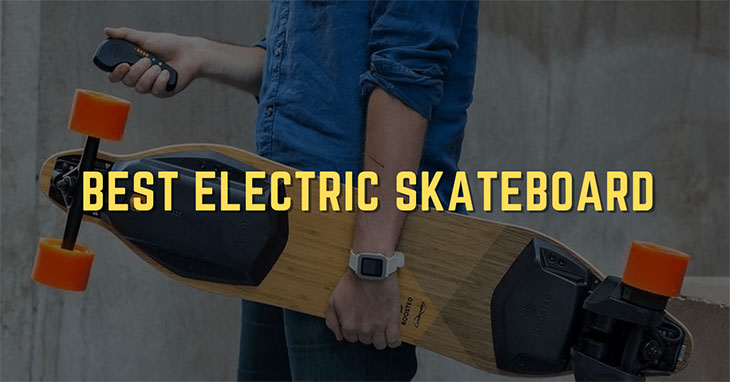 Top 15 Best Electric Skateboards 2023 | Low Budget To High-End
Are you a lover of roads and adventures? If you are one of those people, you must have fallen in love with electric skateboards. You are sure to have a memorable riding experience with the generous style of these boards.
Compared to the traditional model, electric skateboards offer more features to fit for long-distance travel. The best electric skateboard can offer amazing experiences that no skateboard can. 
You certainly don't want to waste your budget on templates that don't fit. So in this post, I share the top 15 most perfect picks from my experience and answer the frequently asked questions related.
Scroll slowly so you don't miss any useful information below!


Top 15 Best Electric Skateboard Reviews in 2023
After a comprehensive selection and testing, here is a list of the best electric skateboards 2023 you should not miss. Check out this section to pick one!
Best Budget Electric Longboard
#1. Meepo V4 Shuffle – $399 – Best for beginner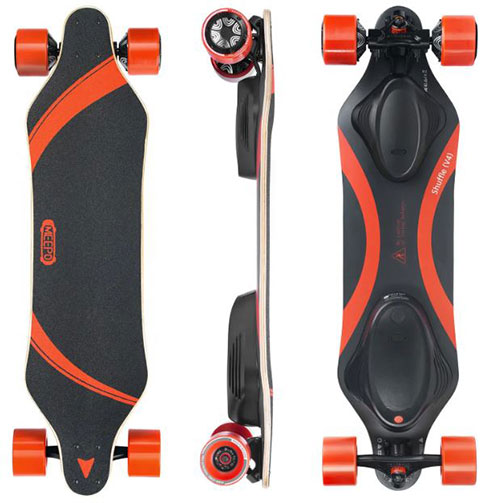 Important Specifications
Battery: 144wh.

Top speed: 29mph.

Motors: 2 x 640W.

Deck length: 36 inches.
Product highlights
If you have never used an electric skateboard, getting acquainted with this sports equipment through the Meepo V4 Shuffle is a perfect suggestion.
The most important reason I recommend this product to beginners is that it is accessible. Apart from the price, the Meepo skateboard also impressed me with its proper directional control.
This product uses the latest Meepo Ly-Poc ESC. According to the manufacturer's announcement, this breakthrough will continuously sample input from the remote control and motor. I have had a very satisfying experience with this new technology. And sure, beginners will also love this user-friendly feature.
See also: Best Skateboard For Beginners at SkateAdvisors.com
I appreciate the user safety protection that Meepo provides. The product allows me to monitor and control speed, brake, and overview board status. These features are essential, often helping me avoid the risk of losing my safety.
Overall, the Meepo V4 Shuffle is a reliable product that meets the needs of beginners to electric skateboards.
For some experienced players, the product's standard battery will be a big minus. The 144Wh battery isn't bad, but it's much lower than most competitors.
Pros
Smooth ride.
Many safety features.
Reasonable price.
Solid build quality.
Fast charging is available.
Bottom line: The V4 Shuffle has all the goodies I love about Meepo. In particular, with the smooth ride the product brings, the Meepo V4 Shuffle will be the ideal choice for anyone who wants to get acquainted with the electric skateboard.
#2. Wowgo 3 – $399 – Best for Comfort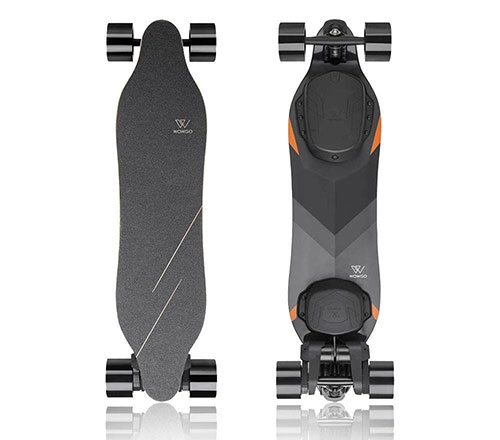 Important Specifications
Battery: 216wh.

Top speed: 24mph.

Motors: 2 x 250W.

Deck length: 38.
Product highlights
One of my favorite parts of Wowgo 3 is the deck. Wowgo 3's deck is no longer as flat as its predecessor. Instead, the manufacturer has added indentations, providing a comfortable feel. Besides, the bamboo and fiberglass material provided the flexibility I was always looking for.
Another notable improvement of the product is the high-end Paris truck. Unlike its predecessor, which made it difficult for me to turn around, the new truck has significantly upgraded the experience of using Wowgo 3.
If you want maximum fun in carving but don't want to sacrifice stability, Wowgo 3 is an option that should not be ignored.
Another notable advantage is the Hobbywing ESC, the Wowgo 3's center. The acceleration of the Hobbywing ESC far exceeds my expectations.
In particular, when using Turbo mode, the control panel quickly reaches full speed. In my opinion, the product's acceleration is almost catching up with the belt-driven models.
Finally, I have to commend the product's ability to absorb vibrations. I used to have a chance to use Wowgo 3 on poorly paved roads. 
The smooth feeling the product brings is better than any electric skateboard in the same price range I have ever used.
I immensely love this electric skateboard model. However, I want to remind you of Wowgo's customer service. 
All after-sales service is handled at the head office in China. As a result, the time and process of solving the problem often do not satisfy users.
Pros
Stability.
Luxury Paris truck.
Fast acceleration.
Good vibration absorption.
The deck is comfortable to put your feet on.
Cons
Need to improve after-sales service quality.
Bottom line: Comfort and smoothness are my most impressive experiences with Wowgo 3. If you are looking for a product that provides a smooth and stable ride, this skateboard is well worth a try.
#3. Wowgo 2s Max – $479 – Best for Speed Control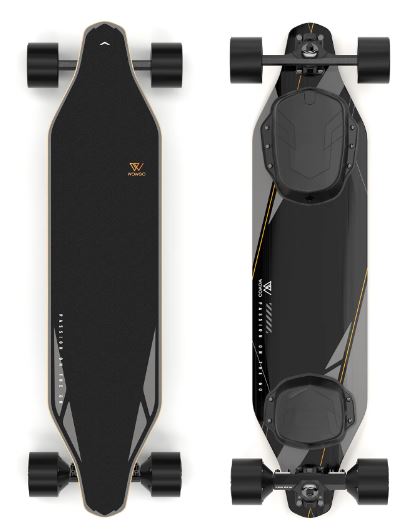 Important Specifications
Battery: 216wh.

Top speed: 28mph.

Motors: 2 x 550W.

Deck length: 38in.
Product highlights
Wowgo 2s Max uses 12s Hobbywing ESC. With this controller, it is not difficult to understand that this electric skateboard model has an impressive speed control ability. Not only that, but the controller also allows 2S Max acceleration and smooth, reliable handling.
In addition to the ability to control the speed, the engine's power is also an advantage that surprised me.
As a product in the low-cost segment, the 2SS Max uses a powerful 550W hub motor. Although it can not bring the experience, the belt motors, Wowgo 2S Max, is also powerful enough to accompany me to conquer many hills and harsh roads.
I am satisfied with most of the features that the manufacturer equips this product with. The only exception is the 105mm honeycomb wheel. This equipment made me quite confused.
On rough surfaces, the wheel performs quite well. I hardly felt any vibration even when traveling in the worst road conditions.
The 105mm honeycomb wheels did not really satisfy me on slippery roads. The product does not provide the smoothness I look for in soft urethane wheels.
Pros
Reduce vibration
Smooth handling.
Easy acceleration.
Good brake.
Powerful engine in the segment.
Cons
Wheels do not work well on slippery roads.
Bottom line: Unique wheels make Wowgo 2S Max less enjoyable when carving on slippery roads. However, if all you're looking for is speed control or braking performance, this skateboard certainly won't let you down.
Best Budget Electric Shortboards
#4. Verreal Mini – $339 –  Best for a Stable Ride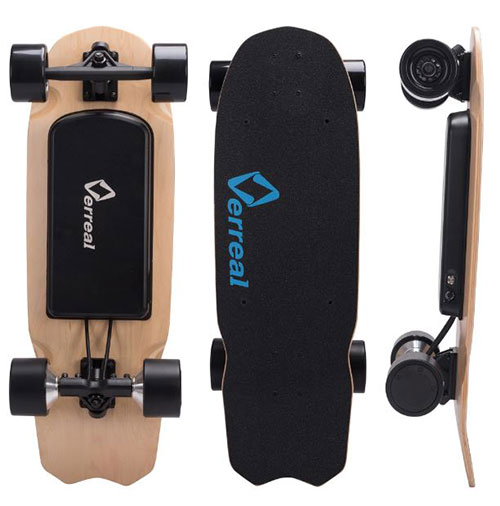 Important Specifications
Battery: 144wh.

Top speed: 23mph.

Motors: 2 x 350W.

Deck length: 30in.
Product highlights
I have experienced quite a few cheap skateboards coming from China. And my general impression is that products from this country often use micro-drop flooring and affordable wood mixture and are not high-performance.
But Verreal F1 is an exception, which comes with 7-layer hard maple, micro-drop point, and radial concave. This design has provided quite an impressive usage experience: lower ride. Thanks to that, I always have a stable driving feeling when using this electric skateboard model.
Performance is also the advantage I am impressed with in the Verreal cheap electric skateboard model.
The product's electronic controller offers the same handling capabilities as skateboard models from famous brands. As a result, I always have smooth, consistent control under all circumstances.
Verreal also made some improvements in the hub engine. The manufacturer also equips 90mm wheels with the ability to eliminate minor collisions.
Despite significant efforts, this one still suffers from the common drawback of electric skateboards: poor shock resistance. Especially on rough roads, Verreal Mini has almost no ability to eliminate vibrations.
Pros
Smooth control.
Regular trip.
High-quality wood material.
High-quality electronic controller.
Capable of eliminating minor collisions.
Bottom line
I tried adding a soft shock absorber between the truck and the floor to reduce vibrations when using the Verreal Mini. The result is quite surprising, and the ride is noticeably smoother.
Therefore, if you love stable rides but are concerned about vibrations on rough roads, try the Verreal Mini. Make a few changes, and you will have the ideal electric skateboard model.
#5. Meepo Mini 2 – $449 – Best for Skill Improving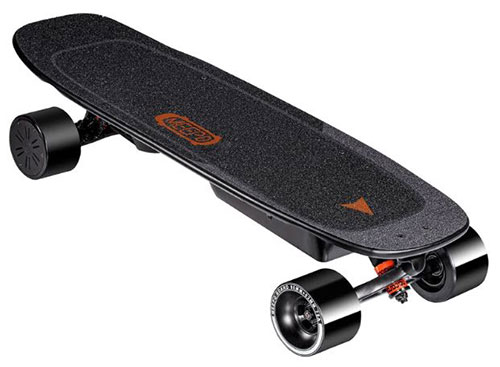 Important Specifications
Battery: 144wh.

Top speed: 29mph.

Motors: 2 x 540W.

Deck length: 30in.
Product highlights
After mastering the first lessons, you will need to learn more complex skateboarding techniques. During this period, one of the ideal products to go with is the Meepo Mini 2.
This skateboard has a pretty cool design. With the advantage of size, the product offers a flexible driving and turning experience.
In particular, the valuable tail section and unique front-end protection technology provide a comfortable skateboard model.
I also highly appreciate the power of the product. This model has a range of 11 miles and a top speed of 29 mph. These parameters are not too impressive but good enough for players wishing to learn more skills.
Meepo Mini 2 impressed me with the electronic leveling system Hobbywing ESC. 
It's not uncommon for electric skateboards to use this system, but Meepo still knows how to make a difference. The product still stands out with the smoothness and power that are not inferior to any high-end skateboard model.
However, I quickly discovered the abnormality when controlling the skateboard at a speed of 3/4. The experience wasn't too unpleasant, as I felt a bit unsteady, and the phenomenon quickly ceased.
Pros
Compact size.
Useful headers.
Comfortable.
Smooth and powerful.
Advanced electronic balance system.
Bottom line: Compact, flexible, and quiet are my impressions of the Meepo Mini 2. By far, it's the best electric skateboard for improvement I've ever used.
Best Mid-tier Electric Longboard
#1. Exway Flex & Flex Riot – $599 – Best for Harsh Weather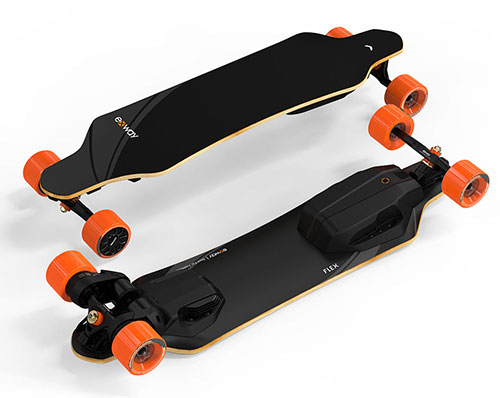 View at Exwayboard || View at Electricboardingco
Important Specifications
Battery: 216wh.

Top speed: 25mph.

Motors: 2 x 1200W.

Deck length: 37inch.
Product highlights
I have often used Exway Flex & Flex Riot to commute to work. And it always completes the trip brilliantly. Even in bad road conditions and unfavorable weather, this electric skateboard model performs quite well.
To bring this impressive experience, the manufacturer had to design a surface that was easy to set foot on. The flexible board surface is quite good, helping me have a smooth experience during the journey.
In addition, the Exway Flex & Flex Riot is also one of the best water-resistant electric skateboards I've ever used. I do not recommend using the product in heavy rain conditions. However, I do not deny that the Exway Flex & Flex Riot are reliable in bad weather.
But the most helpful advantage for me of the Exway Flex & Flex Riot is the remote control. This device works correctly and safely. The management makes moving, accelerating, reversing, or braking no longer too difficult.
This top-of-the-line remote also has a built-in hibernation mode that consumes less battery. As a result, the board will always be ready to go, but the power consumption is negligible.
However, I still have some trouble regarding the battery of this product. The most concerning problem is that the product's performance decreases significantly when the battery is low.
From my observations, when the battery drops below 20%, I notice that the acceleration time and top speed are significantly affected. Even when trying to reach the maximum speed, the board had difficulty moving.
Pros
Reliable in lousy weather.
The surface of the board is flexible.
Comfortable, easy to set foot on.
Flexible, easy to control.
The remote control has a built-in mode.
Cons
Performance decreases when the battery is low.
Bottom line: The Exway Flex & Flex Riot has always been my favorite long-distance electric skateboard. It promises to be the ideal skateboard for everyday travel with easy control and weather resistance.
Buy it on Electricboardingco.com →
#2. Wowgo AT2 (14AH) – $1099 – Best for Luxury Design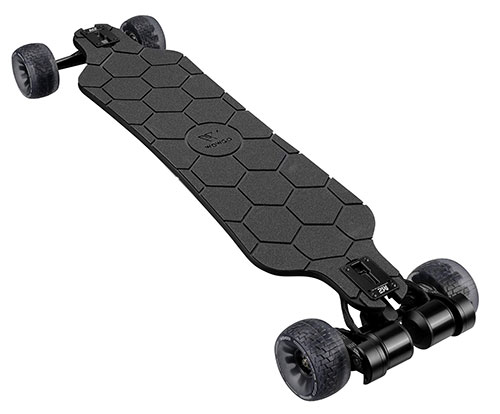 View at Wowgoboard || View at Electricboardingco
Important Specifications
Battery: 504wh.

Top speed: 25mph.

Motors: 2 x 1500W.

Deck length: 38in.
Product highlights
The Wowgo AT2 is more than just an eye-catching product. The user experience that this skateboard model brings is also quite significant.
About the acceleration, its custom Hobbywing ESC did not let me down. In theory, this type usually causes weak braking. But Wowgo has pretty much overcome this problem, providing reliable braking performance.
Plus, this version also quickly reaches a top speed of 25mph. However, what attracts me most is its stability at high speeds.
In my experience, products that use dual kingpin trucks often don't provide the necessary sense of stability. However, despite using the same DKP, Wowgo is an exception. This one offers an excellent driving feeling in all circumstances, even when accelerating to top speed.
For anti-vibration, Wowgo AT2 continues to deliver an excellent performance. The pneumatic wheels that the manufacturer provides and the drive belts have done a fantastic job absorbing shocks and vibrations.
However, I do not appreciate this wheel type when traveling at extended ranges. In this case, for optimal experience, I recommend using Cloud Wheels support.
Pros
Stability.
Good acceleration.
Good vibration resistance.
Reliable braking performance.
High quality, beautiful design.
Cons
Wheels perform poorly at extended ranges.
Bottom line: The only downside to the Wowgo AT2 is that the pneumatic wheels don't perform well on some terrains. Therefore, this model is still one of the best electric skateboards worth trying. In particular, if smoothness and safe braking are emphasized, not many models can beat Wowgo AT2.
Buy it on Electricboardingco.com →
#3. Backfire Zealot S – $799 – Best for Durability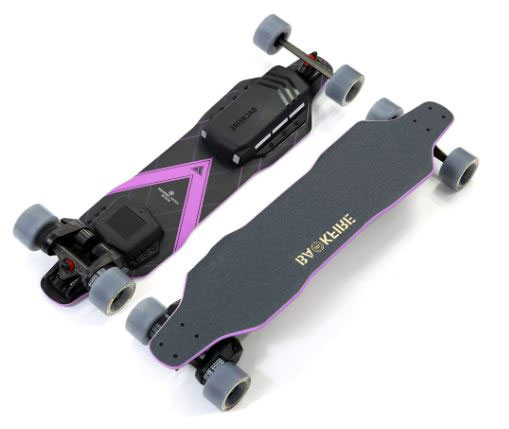 Important Specifications
Battery: 346wh.

Top speed: 30mph.

Motors: 2 x 875W.

Deck length: 39 inch.
Product highlights
I have had more than a year of using and experiencing the Backfire Zealot S. In extended use, and this Zealot model has surprised me many times.
The first surprise is the excellent speed and acceleration. The product meets my daily travel needs and sports skateboarding well. In particular, I immensely love the turbo mode that supports top speeds of up to more than 30 mph.
The battery life and reliability left me quite satisfied. Live in an area with cold winters, but I don't have unusual battery drain issues when temperatures drop. 
The product's 346wh battery life is enough for me to sport skateboards all day or make long road trips.
The battery life impressed me even more. During a year of use, I accidentally used the Backfire Zealot S in the rain. The product still works quite well, showing no signs of damage due to moisture.
The Backfire Zealot S is not simply a product with a durable battery. The overall durability of this skateboard is entirely worth considering. I have had almost no maintenance problems during my use of the product.
As a reliable electric skateboard model, unfortunately, the Backfire Zealot S is not the best choice for excursions. Its sliding surface is quite hard. Compared to flexible bamboo models, the travel experience that Backfire Zealot S brings is not so impressive.
Pros
Enduring.
Reliable battery.
Great acceleration.
Maximum speed meets demand.
Pretty good water resistance.
Cons
Stiff, uncomfortable for excursions.
Bottom line: Don't believe in the durability and performance of mid-range skateboards? Check out the Backfire Zealot S now, and you may have to change your thoughts.
Buy it on Backfireboards.com →
Buy it on Backfireboardsusa.com →
---
Best Mid-tier Electric Shortboards
#1. Wowgo Mini 2 – $599 – Best for Truck Quality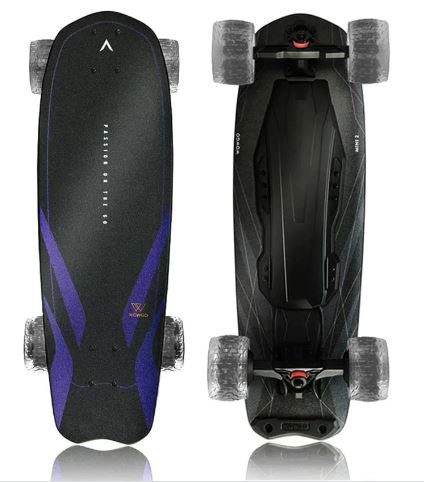 Important Specifications
Battery: 187.2wh.

Top speed: 25mph.

Motors: 2 x 680W.

Deck length: 27.5in.
Product highlights
Wowgo equips this skateboard with the Hobbywing ESC, a 10s2p 5.0 Amp-hour battery, and two 680W motors. The above parameters make Wowgo Mini 2 the best short electric skateboard in the mid-range segment.
However, what I love most about this product is not the excellent parameters but the exclusive truck. Wowgo built an exclusive 45-degree truck for this skateboard model.
From the very first time, I felt the responsiveness and reliability of the truck. Its trucker acumen is far superior to high-end models like the Tynee Board Mini and Exway Wave Trist. The truck is a breakthrough innovation by Wowgo.
To meet the performance of the responsive truck, the manufacturer has equipped the board part that is equally agile and stable. As a result, I got a portable and reliable skateboard.
Another strong point of Wowgo Mini 2 is quite strong brakes. With excellent braking performance, traveling at high speeds is safer than ever.
The experience is quite enjoyable, but I think the product will be even better if it overcomes the drawback of handling vibration.
On poorly paved roads, this hard floor plank cannot absorb vibrations. Wowgo's poor shake handling has had a significant impact on my overall experience.
See Also: Best Mini Electric Skateboards
Pros
Mobility.
Fast response truck.
The board is agile and stable.
The brakes are solid and smooth.
The fishtail protects the deck.
Bottom line: The exclusive truck is the brightest advantage of Wowgo Mini 2. Apart from the truck, this skateboard attracts me with its stable handling, maneuverability, and powerful braking. If you also appreciate the above advantages, do not ignore this product from Wowgo.
#2. Meepo Mini 2 ER – $589 – Best for Acceleration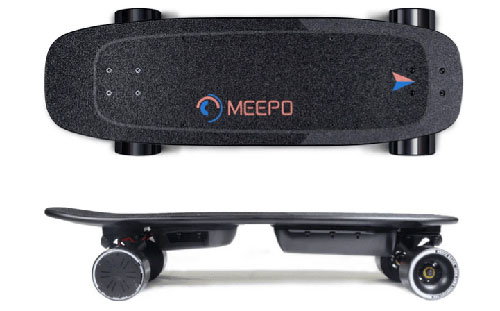 Important Specifications
Battery: 302.4wh.

Top speed: 29mph.

Motors: 2 x 540W.

Deck length: 30in.
Product highlights
At first, I thought the Meepo Mini 2 ER was a miniature version of Meepo V3, a product I also love. However, after a long time of use, the experience of Mini 2 ER is unique and has made a strong impression on me.
One of the most outstanding advantages of the product is its impressive acceleration. The outcome almost immediately reaches a top speed of 29mph, far ahead of many competitors in the same segment.
In addition to impressive acceleration, this short skateboard also makes me love it because the experience is quite similar to the long one.
Despite being only a 30-inch size, the Meepo Mini 2 ER offers exceptional stability. The manufacturer equips the product with a heavy board, large wheels, and specially designed bushings. All of the above factors have made the most stable shortboard model I have ever had the opportunity to experience.
Plus, its carving ability is not inferior to any longboard model. Surprisingly, the Meepo Mini 2 ER still maintains the distinct advantages of short skis. Thanks to that, I both navigate flexibly and sculpt quite comfortably with this product.
Despite many advantages, the Meepo Mini 2 ER is still not the perfect product. 
The vibration handling of this model is just average. Although it does not affect my usage experience too much, this drawback is still worth considering.
Pros
Stability.
Flexible navigation.
Capable of carving.
Impressive acceleration.
Attractive designs.
Cons
Vibration handling is average.
Bottom line: In the past, I often didn't appreciate the power of short skis. But the Meepo Mini 2 ER, with its excellent acceleration, changed my mind. This product is sure to make speed enthusiasts or travel skaters happy.
#3. Exway Wave & Wave Riot – $699 – Best for Hill Climbing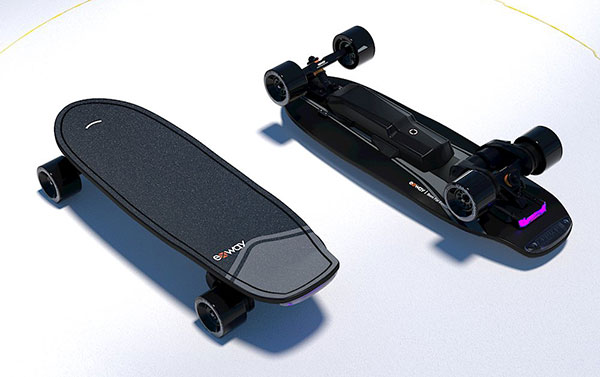 Important Specifications
Battery: 216wh.

Top speed: 23.5mph.

Motors: 2 x 800W.

Deck length: 30in..
Product highlights
My favorite speed with Exway Wave & Wave Riot is around 18 mph. I usually maintain this speed when carving and climbing hills. In any case, the product has successfully passed the most demanding tests.
First, with range checking, my test results are close to the manufacturer's 15 mph rating. In a few cases, I opted to turn on the built-in turbo mode and reduce the range to maximize speed. This decision makes climbing the hill easier.
With the maximum speed test, it continues to give quite good results. The product achieves a top speed of 23 mph, as announced by the manufacturer. This number is impressive, especially for short boards like Exway Wave & Wave Riot.
The excellent braking system is why I always trust using Exway Wave & Wave Riot to climb hills.
This pattern stops almost instantly and handles any problematic situation well. With Exway app assistance, controlling brake power is easier than ever.
The Exway Wave & Wave Riot passed all my performance tests. My only complaint about the product is that the wheel is not for everyone. I had to replace the manufacturer's wheels with 105mm Cloud Wheels for maximum comfort.
Pros
Ideal range.
Powerful brake.
Impressive top speed.
Easy brake control via an app.
Impressive hill climbing performance
Cons
The wheels are not too impressive.
Bottom line: The Exway Wave & Wave Riot has powerful engines, reliable braking performance, and an ideal range. With the above equipment, I always favor using the product in all my hill climbs.
#4. Tyneeboard Mini Belt 5AH – $579 – Best for Stability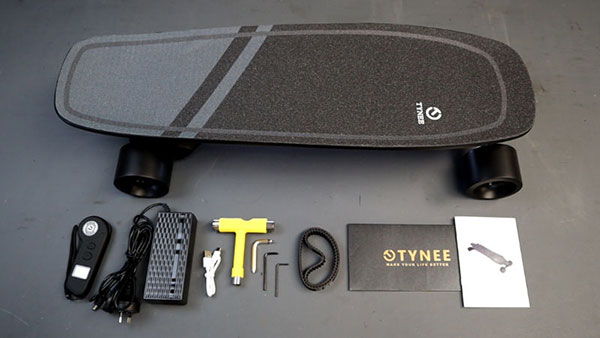 Important Specifications
Battery: 180wh.

Top speed: 23mph.

Motors: 2 x 875W.

Deck length: 30 inch.
Product highlights
I have always been curious about the appeal of the Tyneeboard Mini Belt 5AH, the best-selling of this Chinese brand. After months of testing, I understood the reason for the success of this best electric skateboard.
As a compact skateboard model, this model does not prove to be less powerful. It has a belt-driven board, accelerating better than many competitors in the same price range. In addition to being powerful, the product also impressed me with its excellent stability.
The product has a fishtail design, which is very suitable for inexperienced users. While this design isn't ideal for kicktails, it's a durable option that rarely loses control.
Every time I use this short skateboard, this unprecedented stability makes me feel a bit heavy under my feet. However, I still consider this stability a commendable feature rather than a bug to be eliminated.
An excellent choice for the price, but the Tyneeboard Mini Belt 5AH still does not overcome the disadvantage of poor vibration handling.
This short skateboard model shows weakness compared to the long skateboard when moving over rough pavement.
Pros
Compact.
Rarely lose control.
Comfortable engine.
Outstanding acceleration.
An excellent choice in its segment.
Bottom line: This skateboard model has powerful torque and excellent stability. Whether you are a heavyweight racer or a beginner, you will be satisfied with the product's experience.
Best Premium Electric Skateboard
#1. Meepo Hurricane – $1.599 – Best for Power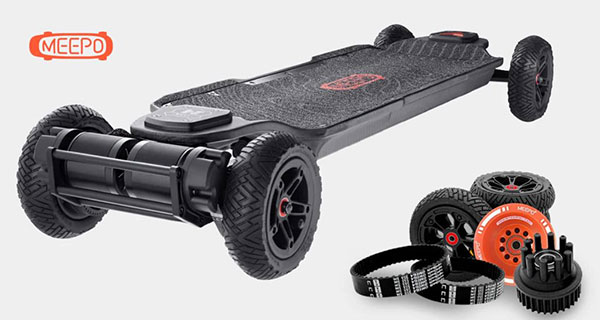 Important Specifications
Battery: 725.8wh.

Top speed: 35mph.

Motors: 2 x 3500W.

Deck length: 44.29.
Product highlights
Meepo offers quality products in all segments. I love Meepo V4 Shuffle and Meepo Mini 2 ER in affordable, mid-range pieces. And in the premium segment, Meepo didn't disappoint me with the Hurricane.
The uniqueness of this product is reflected in its material. Instead of ordinary wood, Meepo equips the T700 carbon fiber product, a durable material commonly found in drones.
Not only is it featured with premium materials, but it also comes with a unique electronic speed controller, LingYi ESC.
I'm pretty impressed with the push-button start feature this controller supports. This feature has saved me from unnecessary accidents in quite a few cases.
But what I love most about Meepo Hurricane is its power. This model can outperform any competitor in its segment. The Meepo Hurricane's speed control is impressive, which could be the gold standard for high-end skateboards.
Despite possessing a powerful explosion, it has not lost the necessary stability and balance. The Meepo Hurricane's truck remains stable and comfortable even at top speed.
However, the above features are both advantages and disadvantages of the product. This robust skateboard model will not be the ideal choice for carving.
Pros
Great stability.
Support push-button start.
Powerful, outstanding acceleration.
Durable and crack-resistant material.
Unique electronic speed controller.
Cons
Not a good choice for carving.
Bottom line: If you are looking for a powerful and responsive product for carving, the Meepo Hurricane might disappoint you. Also, if you value power and stability at high speed, investing in the Meepo Hurricane is a smart decision.
#2. Propel Endeavor Pro – $2099 – Best for Off-road Ride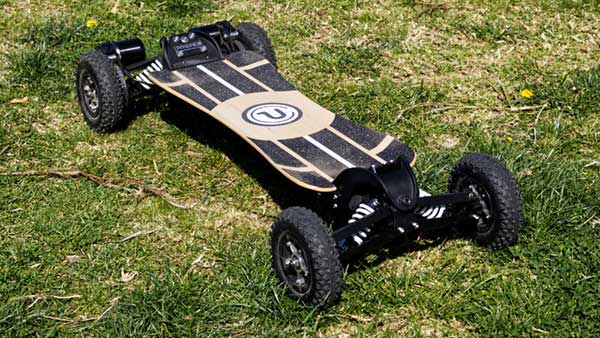 View at Ridepropel || View at Electricboardsdirect
Important Specifications
Battery: 1110wh.

Top speed: 31mph.

Motors: 2 x 3000W.

Deck length: 30.7inches.
Product highlights
If you are interested in electric skateboards, you must have at least once heard of the Endeavor models of the Propel EV brand. And one of the most prominent models of this product line is the Propel Endeavor Pro.
Compared to direct competitors, Endeavor Pro has a few upgrades in deck material, battery, and speed controller. The changes above make for a powerful model for heavy-duty off-road skateboarding.
On all terrain, the Propel Endeavor Pro's powerful and quiet motherboard engine met my needs quite well.
I also have to commend the product's unique suspension system, which constantly moves optimally and efficiently. During every ride, the suspension effectively eliminated any vibrations.
The product allows me to enjoy my off-road enjoyment in all road conditions. Not many off-road or All-Terrain models can deliver this experience.
The product has a test range of up to 39 miles and a top speed of up to 31 mph. All have made a device with exceptional off-road capabilities.
The biggest weakness of this product is that it is not waterproof. However, I am not accustomed to using electric skateboards in lousy weather. Therefore, this drawback is not too difficult for me to accept.
Pros
Enduring.
Impressive top speed.
Good vibration rejection.
Many upgrades over in-class models.
Powerful and quiet motherboard motor.
Bottom line: Although there are still downsides, the Propel Endeavor Pro is still the most advanced electric skateboard model for me. If you love products that handle off-road situations well, you'll love this premium skateboard.
Buy it on Electricboardsdirect.com →
#3. Exway Atlas Carbon (4WD) – $1999 – Best for All-Terrain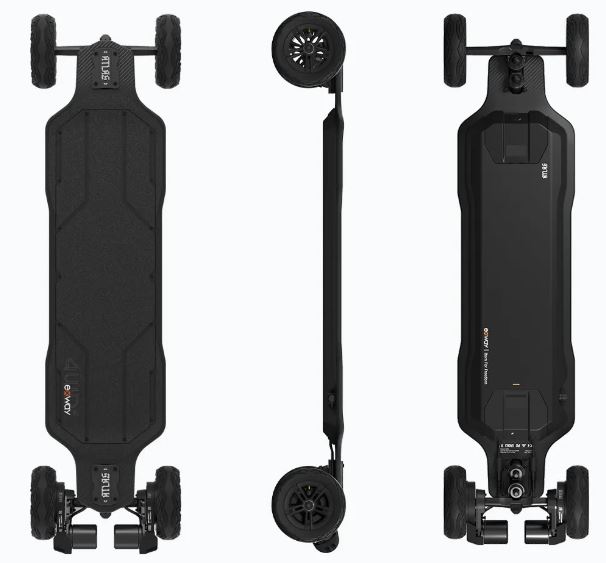 Important Specifications
Battery: 518wh.

Top speed: 32mph.

Motors: 4 x 1200W.

Deck length: 46in.
Product highlights
To be on the list of best electric skateboards, the product goes through several tests on my speed, braking, and handling. And the Exway Atlas Carbon (4WD) is one of the few excellent products that passed all my rigorous tests.
In particular, with the speed test, the product gave quite similar results to the 32mph figure provided by the manufacturer. The acceleration of this model is also quite impressive. I was even surprised at its maximum speed.
A great acceleration device will pose many safety hazards without adequate braking performance. Understanding this, Exway Atlas Carbon owns a high-performance braking system.
Initially, I often leaned forward because I slammed on the brake. Later, I learned to distribute the weight, and my braking experience with it was much better.
In addition to the above advantages, I love the Exway Atlas Carbon because of the product's ability to operate on all terrains.
I've been with Exway Atlas Carbon on the steepest hills, navigating gravel, snow, and many other challenging terrains.
Every step of the way, I am satisfied with the strength and comfort that the product brings. Despite the lack of flexibility, at least this high-end skateboard model still gives a different experience to cheap complex carbon products.
Pros
Enduring.
Comfortable.
Great acceleration.
Ideal for climbing.
High-performance brake.
Bottom line: The Exway Atlas Carbon has all-terrain-ready performance. In addition, I also quite appreciate its refined user experience. All the above advantages are enough for this skateboard to become the best electric skateboard to buy.
Buying Guide for The Best Electric Skateboards
After checking out the 15 best electric skateboards above, you must be very curious about how we choose the perfect models.
Without making you wait any longer, here are some essential criteria that any electric skateboard enthusiast should consider for buying.
How We Chose
We had to search, test, and compare to choose the top electric skateboards for a long time. Here are some of the criteria we regularly use throughout our work:
Brands:

We know that there are a lot of unknown brands in the market that still provide high-quality products. 
However, to ensure that the quality of the skateboard is confirmed, we always prioritize choosing products from reputable brands in the field.
Speed ​​and range:

This is an essential criterion that powerfully influences our decision.

Build quality:

We always want you to find products you can stick with for a long time. Therefore, the suggestions in the article are made of durable materials, solidly designed to ensure a long life.

Budget:

We've divided the electric skateboard market into three segments: budget, mid-range, and high-end. Based on this division, we will look for the best products in the price range worth the investment.

Warranty period:

Most of the products on the list have a minimum warranty of 3 months.
Features To Look For
To choose the best electric board, here are some factors you need to consider.
Motor type
The motor is the heart of the electric skateboard. Therefore, you need to pay special attention to this part when choosing to buy.
There are two most common motor types: belt drive and hub motors. Products using belt drive motors will have outstanding acceleration. These skateboard models also have impressive durability, despite being quite heavy and noisy.
If you want to move at high speed or have the most comfortable, premium skateboarding experience, you should invest in products with a belt drive motor.
The hub motor can't get you around at 30 mph like the above. But in return, the center-engine skateboard is relatively light and fuel-efficient.
If you are an amateur skateboarder who just wants to move around daily with a skateboard, products that use a hub motor will be a better choice.
Battery Life
Battery life will depend on your usage needs. If for you, electric skateboards are the means to go to work, you will have to look for products with excellent battery life.
To be sure, you should consider your travel distance and choose a product with 20% more battery life than you need.
To calculate the battery capacity, you simply multiply the voltage by the amp hours of the battery. For example, a 36V model with 5Ah amp-hours will have a battery capacity of 180Wh.
Weather Resistance
Electric skateboards contain many water-sensitive components. And any sudden rain can destroy your equipment worth hundreds, even thousands of dollars.
Therefore, it is better to choose products that are water resistant. The higher the IP rating, the better the vulnerable components are protected from bad weather conditions.
However, you also need to be careful not to rely too much on water resistance. Despite its good weather resistance, no experts recommend using an electric skateboard in heavy rain or crossing deep puddles.
Deck size
The size of the floor will affect the area you have to perform techniques and feel when controlling the skateboard.
Adult electric skateboard models typically range in size from 37 to 38 inches. You can also find some compact products that range from as little as 21 inches.
Weight
Lightweight skateboard models will carry when the battery runs out. Meanwhile, heavier products are pretty bulky but have impressive power and range.
To balance mobility and range, you should look for products weighing between 14 and 22 pounds.
Price
The cost of electric skateboards depends on factors such as brand, engine, and warranty period.
In order not to be affected by the above criteria, in the first step, you should determine the budget you are willing to pay.
You will then eliminate the product charges that are too high or too low, finding the product that is the best value for money.
There's no shortage of good electric skateboard models for less than $1000. With any budget, you can find the best electric skateboards for your needs.
Warranty
A reliable electric skateboard model will have a minimum warranty of 3 or 6 months. The longer the warranty period, the better your rights are guaranteed.
The warranty also partly reflects the reputation of the brand and its durability. Yet, the most impressive warranties also often come with the highest prices.
Customer support
Like the warranty, customer service is also an important factor affecting your benefits. The service includes product maintenance, repair, and troubleshooting. 
An enthusiastic customer care team will solve all your problems, thereby increasing the product's life.
FAQs 
I get a lot of questions about how to use and maintain the best e skateboard. Below are brief answers to the most frequently asked questions.
Can you use an electric skateboard as a regular skateboard?
You can use an electric skateboard like a regular skateboard. The motor and the electric skateboard net have nothing to do with each other.
How long can you ride an electric skateboard?
The shelf life depends on the product type. The distance traveled after each charge of the electric skateboard is 12 – 20 miles. Some products with larger battery capacity will have a more impressive range, possibly up to 50 miles.
Can you overcharge an electric skateboard?
Overcharging can cause the skateboard battery to overheat. Doing this will affect the life of your skateboard and your safety.
How do I maintain my electric skateboard battery?
To service the battery, you need to make sure the temperature around the skateboard is not too high or low. Plus, do not allow water to enter the connector, and do not remove, open, or puncture the battery.
How do you take care of an electric skateboard?
Cleaning a skateboard with a damp cloth is a simple yet effective way to protect its surface. You need to prevent water or dirt from entering the electronics inside.
Final Thoughts
I have introduced to you the top 15 best electric skateboards in different segments. I hope my reviews based on experience help your selection.
If you need a perfect model for the overall, the Meepo V4 Shuffle is a top candidate I recommend for you. On the contrary, for a limited budget, the Tyneeboard Mini Belt 5AH might be the priority for your everyday ride.
If you have any questions regarding the content of the article, do not hesitate to leave a comment. I will try to give timely feedback, so you find the perfect model for your trip. Thank you for reading!