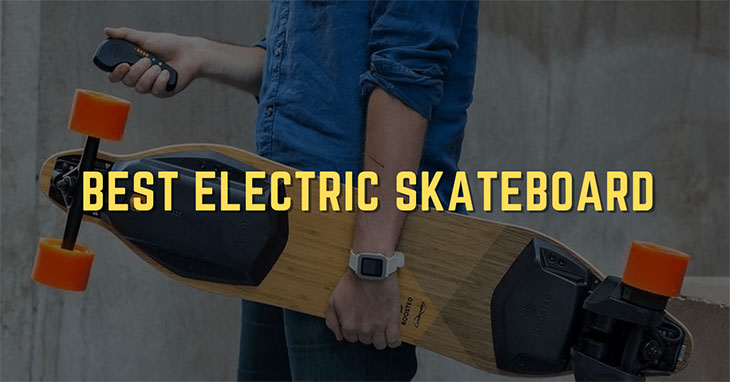 Top 11 Best Electric Skateboards in 2022 (Tested)
Do you want to upgrade from your traditional skateboard to a modern electric skateboard?
With the recent technological advancements and the growth in urbanization, electric skateboards are becoming increasingly popular. Not only are electric boards portable, but they're also quite convenient.
If this is your first time looking for an electric board, you may feel a little overwhelmed given the variety of models available in the market, but don't worry! We're here to help!
In this post, we'll review some of the best electric skateboards in the market. We'll delve into detail, discussing their pros and cons. In addition, we have a general buying guide and FAQ section to help you find the best electric skateboard for you!
Let's get right into the reviews.
See also: 10+ Best Cheap Electric Skateboard of 2022
Top 11 Best Electric Skateboard Reviews in 2022
Before you buy your board, it's essential to take a look at some of the best electric skateboards on the market. It'll give you an idea of what to look for in a good electric skateboard.
1.

Meepo Shuffle V4 – $429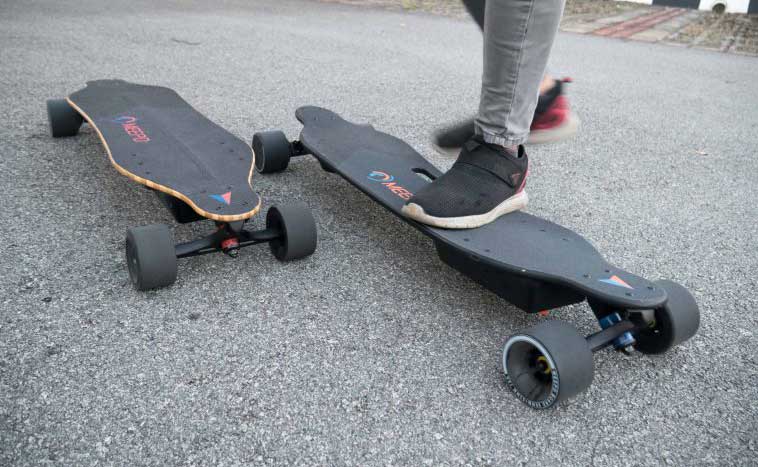 Since price has been one major factor affecting the sales of electric skateboards, manufacturers have now built and introduced many affordable versions of these boards.
The Meepo V4 board is one amazing skateboard with all the right features and quality that comes at a great price.
Specifications
Speed: 28 miles per hour

Four riding modes

Powered by: Two 540 watt motors

Dustproof

Water-resistant
Everything from the construction, style, and size all the way to its speed, control, and features, makes it a great electric skateboard. It is made from Canadian maple wood, making it great for high-speed action and drift.
The board weighs 16 pounds only, making it quite portable and easy to carry around.
Riding-wise, you can go up to 11 miles on a single charge using the standard battery. But with an upgrade, the range can go up to 20 miles.
The board is battery operated and quite easy to plug in and charge; it takes just two to three hours to charge the battery completely.
There are four riding modes, and the board can lift up to 300 pounds. The pick-up is amazing, and it goes to 20 mph in just within 5 seconds.
Pros
Superfast goes up to 20 miles within 4.5 seconds.
Stops instantly within seconds without toppling the rider over
Great quality built
Amazing support and design
Cons
Users have complained about dust and water getting in the board
2.

WowGo 3X – $599
Just launched about a year ago, the WowGo 3X is one great electric board in its league. Here are some of its key specs:
Specifications
Weight limit up to 150Kgs

Range 12 miles

Charging time 3 hours

OLED remote control

Two 600W motors on each side 

Replaceable parts
The board comes as a great package deal. Everything, from the price, built, quality, and features, makes it a great choice for users. The board also comes with a new and improved battery making it one mighty electric skateboard. 
One great thing is that all the parts are easily replaceable, so if there are any broken pieces or wear and tear with time, it won't be hard to find a replacement.
Pros
Durable and replaceable parts
After-sales warranty of nine months
Superior continental belts for grip
Four-speed modes to calibrate the speed that suits you best
Cons
It supports just an adequate climbing option for an E-board
3.

MEEPO NLS PRO – $599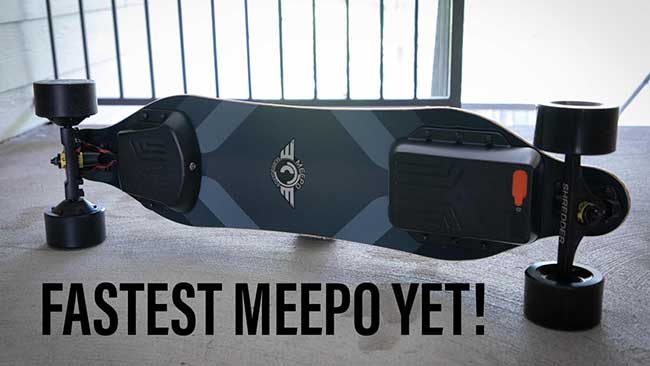 Meepo NLS Pro has been designed for plus-size users. With a 38 inch longboard, the electric skateboard is best suited for the taller, heavier riders.
Specifications
Range 20 Miles

Speed 55 Km/h

It comes with a six-month warranty

USB support

Includes stand rack
Meepo NLS Pro comes with a super powerful battery that enables the user to cover wide distances and go up and down the hill with no trouble.
It's basically designed for daily use and commute to and from school, work, parks, markets, etc.
The board easily goes up to 55Km/h on two-hour battery life, making it one of the fastest boards around. So if you want super speed with no compromise of performance, the Meepo board is your best bet.
Pros
Powerful Meepo ER battery
It comes with the M4 remote
Supports up to 150 kg weight
Shock-absorbing wheels
Cons
A bit expensive than its previous version
4.

Teamgee H20T – $599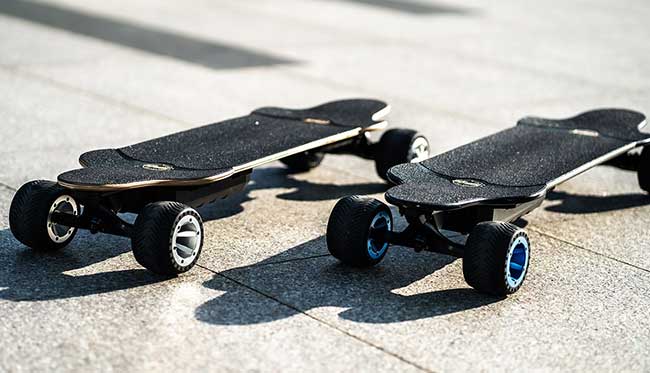 Great for beginners and pros, the Teamgee H20T skateboard gives its riders all-around support. Here are some of its key specifications:
Specifications
Speed 42 Km/h

Range 22 m

Weight 21 lbs.

65 mm wheels
Wide 103mm tires offer max support and stability to its riders while going uphill or simply going down the road.
A unique feature this one has is the anti-skid ability. That makes you maintain your balance with minimal chances of the board slipping under your feet. That makes it a great choice when it's raining or when you are riding on the wet road or terrain.
The board easily goes up to 22 miles on one charge, plus the transition across modes, from low to high speed, is super smooth, super fast.
Pros
It comes with a w-shaped foot placement
Strong quality made from fiberglass material
It has a protective casing around the battery
Ideal for beginners
It comes with four-speed and brake modes
Cons
Not easy to take it up to the advertised speed
5.

Maxfind FF – $799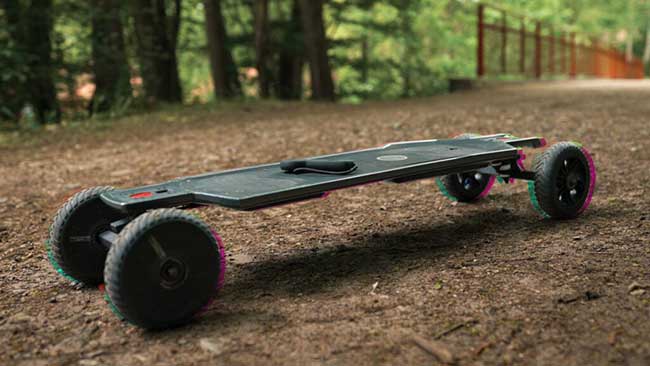 Maxfind has definitely upped its game by introducing high-speed, high-performance, and quality electric skateboards like Maxfind FF to the markets. However, unlike their previous versions, this one comes with a strong body, powerful motor, and features to make it one of the top choices of professional riders.
Specifications
25 mph speed

Range 21 miles

96mm wheels

750-watt powerful motors

Weight 20 lbs
The Maxfind FF boards have detailing like no other. It seems everything about it, from the speed, motor, built, range, etc., has been well-thought-out and planned to give the user the best support.
The board too, has been constructed to give it the flexibility when riding at high speed and a smooth transition to high and low speeds.
The shock-absorbing quality is amazing. It also gives you the option to tweak the board's power output in accordance with your riding style and speed.
Pros
Solid tyre support
A strong deck made from fiberglass
Good after sales support
Wide and concave design to offer foot support during speeds
6.

Verreal RS – $979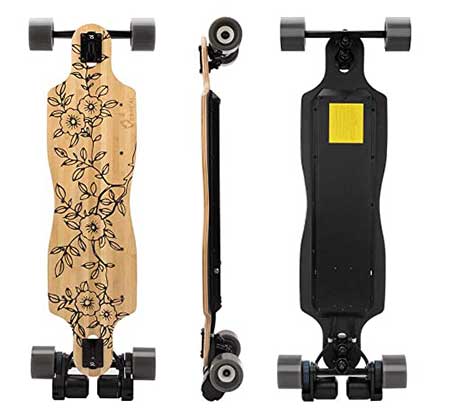 Next on our list, the Verreal RS is a great electric board for those who like to play it safe. 
Specifications
40-43Km/h speed

LS and Mega battery packs: 576 Watt and 720 Watts

Dual belt motors 1500 Watts each

Hobbywing ESC sensor
However, safety doesn't mean it lacks any of the top features that any other board in the league would have. The board comes with all the four-speed modes, powerful batteries, trucks made to suit the rough, uneven terrain and is quite durable and solid.
But it's the brakes they've worked on so well with this model that catches the interest. There's a safety brake and regenerative brake, so there's a minimal chance you'd topple over if you hit the brakes abruptly. 
So if you are thinking of a solid professional board for your kids or young loved ones, the Verreal RS has something for both you and the user.
Pros
Amazing brake system
Remote with four-speed display
Offers a wide range of options on a single charge
Extremely powerful
Cons
Charging time is a bit longer than others; it takes 5-7 hours to fully charge.
7.

Meepo AWD Pro -$799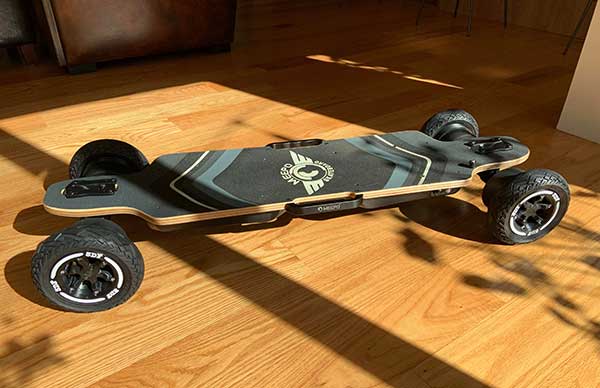 Meepo AWD Pro is an all-wheel-drive E-board that is the most affordable option for users. Here are its key specs:
Specifications
15-mile range

34 mph top speed

Four individual motors generate an output of approx 1200 Watts. 

Speeds up to 34 mph

Premium ER batteries

Weight limit up to 10.6 kg
This may be the mightiest electric skateboard on our list. The board is 40 inches long, allowing all ages and users sizes to make the best of it. It is basically an upgraded model with obviously the best features and more power to fulfill whatever glitches the previous models had.
It also has a super cool logo that glows in the dark; that's bound to turn heads wherever you go.
Pros
The four individual motors provide faster acceleration,
Responsive brakes and a much stable (balanced) ride.
It is 40% faster than its previous version AWD GT
22.5 km distance coverage on each charge
One of the fastest Meepo boards
Ideal for hilly areas
8.

Verreal RS Pro – $1159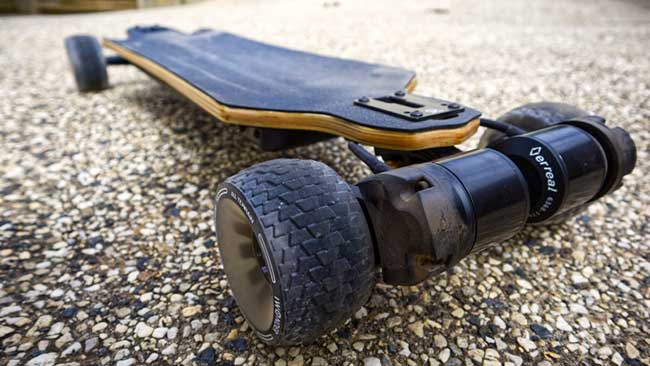 We can call this the best value for money board. Here are the key specifications of the Verreal RS Pro:
Specifications
Speed 45-50 km/h

Range 50 km

Equipped with dual motors; 1500 Watts each

Seven hours to fully charge. 

Can sustain a load up to 150kg. 
There are various types of wheels to choose from, such as orange wheels, glow wheels, mad wheels, cloud wheels, etc. This board too comes with safe brakes to ensure a safe ride for the young and old.
Pros
4-speed modes
Almost 30% effective for hill climbing
The remote has an OLED screen
You can remotely turn the board on or off from a safe distance.
It comes with regenerative brakes
Cons
Charging time is relatively high
9.

Backfire Zealot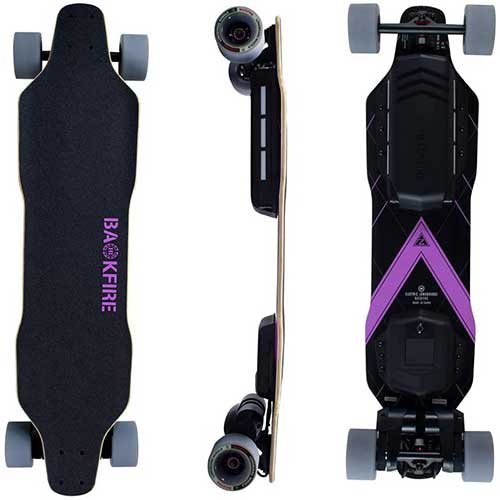 If you love the thrill, you've got to check out the Backfire zealot. Here are some key specs:
Specifications:
Speed 28.5 mph

Battery 311 Wh

Water-resistant

Range 28 km

Weight capacity 8 kg

Battery charges in 6 hours
You can do so much with this board. Be it going on a smooth ride or going wild with all the stunts of the hill; it rides smoothly every step of the way.
At the speed of 15 mph, the board supports and glides like a pro, thanks to its flexible bamboo body.
Plus, the speed control is amazing; you can take it up or slow down within seconds without any fear of topping over or getting a sudden drift.
The board comes with different modes like the sports mode, eco mode, turbo mode, etc., so you can tweak the settings and go where you want. You can take it on the road or off-pavement too.
The electric skateboard can go up as fast as 30 mph; yes, that's scary but gives you the thrill of a lifetime. Moreover, the LEDs are amazing and help with visibility. Bonus point: they don't drain out the batteries either!
Pros
Good customer support

Durable sturdy built

Manufactured in China 
Cons
Cheap USB ports

The battery size is too large

Not waterproof
10.

Backfire Ranger X2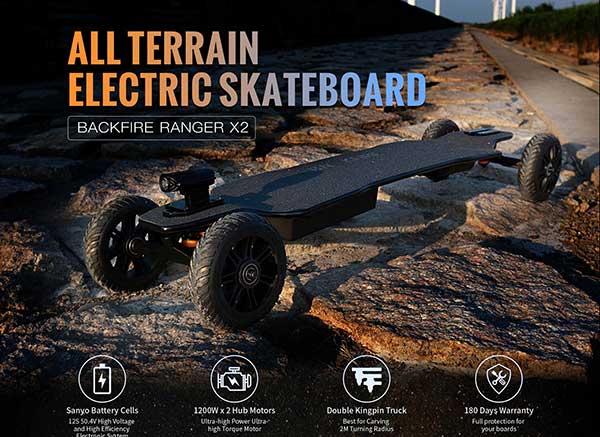 Next up, we have the Backfire Ranger X2. This one is designed with a super flexible body to support the body at high speeds fully. 
Specifications
Speed 35 Km/h

Range 24-30km

Powerful 50.4V battery

Flexible deck

Honeycomb airless tires 6.5 inches wide

High-Efficiency Electronic system
The board is easy to maneuver and rides along the foot, giving good control to the user. It's suitable for all terrains. You also get a wireless OLED display remote with this one; all the stats like battery, speed, distance covered, etc., are stored and can be viewed there when you want.
So it's another great electric skateboard for those who love speed. The board also comes with KingPin trucks that allow you to turn or go through curves requiring only two meters of turning radius.
Pros
Waterproof motors

Long battery life

Four modes include sport mode and road cruise.

Dustproof
Con
Water-resistant motors; the body is not waterproof
11.

Backfire Zealot S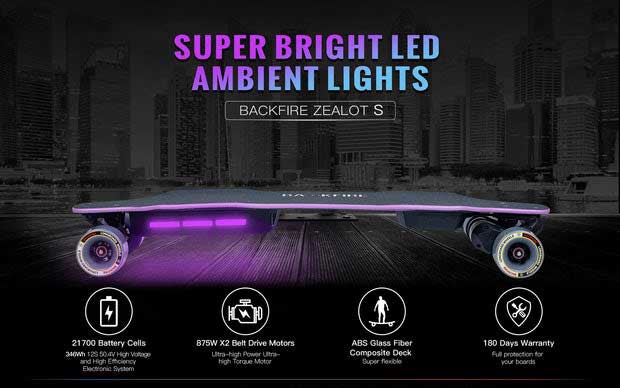 Super efficient, fast, and equipped with the latest tech, the Backfire Zealot S is a dream board for many enthusiasts.
Specifications
Range 30-40 Km/h

Powerful 50.4V battery

Speed 48Km/h

96mm wheels

High Efficiency Electronic System
The transition to all the modes is super smooth and fast. Plus, the manufacturers have taken good care to ensure the brake works in alignment with the board at high speed. You can easily stop at a distance within a limited time frame and also go up a notch without much jostling and toppling.
You can also carry it around, though not with much ease. It's okay to carry around shorter distances, but carrying it won't be a great idea when you are far away from home. So be careful to monitor its battery life when you are en route!
The built quality is amazing. Made from the strong ABS fiberglass material, this electric skateboard is unbreakable yet offers full support to the feet, flexing along every curve as it rides through aligned with your maneuvers.
Pros
Has LED ambient lights

Good price

It weighs 19 pounds, so it's portable to some extent

Unbreakable
Cons
Buying Guide for The Best Electric Skateboards
Now that we've looked at some of the top rated electric skateboards let's look at some of the general features of electric skateboards.
It's important to have a little basic information about these features as it'll help you pick the best electric skateboard for you.
Quality of Battery
One of the most important components of an electric skateboard is its battery. The speed and the distance your board can cover is dependent on how much power and capacity the battery has.
When looking for a board, be sure to check the battery specifications. The manufacturer should mention the brand and the type of batteries they've used for the board.
If the manufacturer hasn't mentioned these details, chances are the batteries they've used aren't high-quality.
If the battery is low-quality, it may have an impact on your skateboard's motor. It may even end up damaging your motor in the long run.
Our advice is that you don't compromise on battery quality. It's better to spend a little extra for a long-lasting, high-quality product than to deal with the aftermath of low-quality products.
Remote Control and Connectivity
While you can't get a board that has zero connectivity issues, it's better to invest in a board that promises high connectivity.
The reason why connectivity is so important is that you basically control your board with remote control. You brake, reverse and adjust the speed with the help of your remote control. It's inconvenient and dangerous if you lose connectivity while riding your board.
Imagine you're riding your board and approach a crossing. You need to brake, but your remote has lost connectivity. This would be a very dangerous situation for you and for the people around you.
We suggest you check customer reviews and community/forum feedback of the skateboard you want to buy to see if the remote offers good connectivity.
Another thing to check is the remote battery life. You need to ensure the battery of your board will last while you're riding on your board.
The remote battery is also something you should keep in mind even after you've purchased your desired skateboard. Every time you go out on a ride, ensure both your remote and board are charged for the trip.
While riding, also keep an eye to check if your remote is connected to your board.
Wheel Quality
Regardless of whether you're buying a traditional skateboard or an electric skateboard, wheel quality is something you should always double-check. The quality and size of your wheels determine the smoothness of your ride.
In the case of electric skateboards, there are generally two types of wheels.
Generic
These are branded wheels, which also means that these are more reliable and tend to be high-quality.
Clone wheels
Clone wheels don't have a brand and are often low quality.
Quality of Components
All its components determine the quality of your board. If you buy a cheap quality board, the chances are the parts are low quality as well.
Here some of the various components that you should look into:
Trucks
The trucks connect your deck to your wheels and also help you maneuver your board. If your trucks are low quality, not only will you have a hard time controlling your board, but your board can also fall apart while you're riding.
Deck
If your deck is not sturdy, you'll have a hard time riding over different terrains. Worst-case scenario, your board might even snap into two. Therefore, it's essential to ensure your deck is sturdy and flexible.
A flexible board is useful when it comes to maneuverability and can also hold up against impact.
We suggest you look into the materials of your deck. Usually, decks are made of wood, fiberglass, and/or plastic. Also, make sure your deck doesn't weigh a lot; heavy decks are difficult to carry.
Wheels and Bearings
As mentioned earlier, wheel quality is important to look into. Bearings are another thing you should look into to determine the quality of your wheels. Bearings are responsible for the smooth spinning of your wheels.
Motor
Lastly, the motor is what ensures your board keeps moving. If you're investing in a low-quality motor, we suggest you buy a traditional skateboard instead as the motor will eventually stop working, making your electric board useless.
There are two motor options you can choose from:
Belt Motor
Belt motors have a gear system. Essentially, the motor is connected to a gear, which is attached to a wheel pulley with a belt.
When you start your board, the power from the battery makes the motor turn, which makes the belt spin. As the belt spins, it propels the wheels to move.
If you take a closer look at the bottom of your board, you'll be able to see the whole belt system.
Hub Motor
Unlike the belt motor, the hub motor is a more recent invention. These are especially popular on electric skateboards. All the components of a hub motor are located inside the wheel. When you hit the accelerator, the whole component begins to spin.
Stability and Control
The board you purchase needs to provide you with stability and control. Particularly for beginners, it becomes easier to learn if your board gives you more control and allows you to stand comfortably.
The remote is an important component that will help you control your board. Therefore, do look into the features and connectivity of the remote.
Other influential factors can be the shape of your board and the quality of grip tape. Both these features are important in ensuring your feet stay firmly on the deck.
The material of your deck and wheels can also have an impact on stability and control. For instance, if your deck and wheels are shock absorbent, you won't be able to feel vibrations and will be able to glide smoothly even on bumpy terrains.
Brakes
Another crucial feature to look into are the brakes of your electric skateboard. Unlike traditional skateboards, that you can stop using your foot, electric skateboards need a proper braking system to help you stop and maneuver your board.
Most skateboards have regenerative braking systems, which means that they convert kinetic energy into electrical energy. In simple words, it converts motion into electricity. This helps you save energy as you brake.
Make sure your board has a properly functioning braking system with a reverse function as well. As we discussed in the review section, some of the best e skateboard models come with three to four types of braking systems.
Portability and Weight
Electric skateboards are quite convenient for commuting. It's one of the main reasons people prefer electric skateboards over other means of personal transportation. Not only are they lightweight and portable, but you also don't have to worry about traffic or parking.
If you're one of these people, then looking into weight and portability will save you a lot of trouble.
Say, for instance, you take the bus first and then cover the remaining distance to your destination with your board. This means you will need to carry the board with you on the bus. If your board is too large or too heavy, it's going to be a hassle.
Plus, your workplace or school might not have a specific place for you to store your board. If your board is small, you could keep it inside your locker or bag.
The ideal board weight and size for commuting would be around 27-inches in length and 7 kg weight.
However, the size and weight are dependent on your preferences and requirements, so be sure to think about everything before you jump in to buy aboard.
Slopes
If you live in an area with a lot of inclines, you need to make sure your board has enough power to go over these inclines.
As we mentioned in the review section, some models have enough power to help you climb all sorts of inclines. On the other hand, some models don't.
We suggest you look into the product specifications to check if your desired board is suitable for going uphill or downhill.
Brand Reputation and Customer Service
As with all products, be sure to look into the brand and quality of services before purchasing your board.
Electric skateboards are usually not cheap. You're investing a good sum of money for an item that you will probably be using on a daily basis. You need to ensure that you can call up the company for assistance if there is any damage.
It helps if the product you purchase comes with a warranty. We suggest you look into the customer review section to find out how reliable the customer service is.
After spending a lot of money, the last thing you need is a damaged product and a company that won't respond to your complaints.
Water Resistance
This feature is a must-have if you live in a place where it rains often. There's no point in buying an electric skateboard if it's going to sit at home all day because of the rain.
Even if you don't live in a rainy area, you're bound to ride over a puddle eventually accidentally. While this won't destroy your board immediately, it may cause issues in connectivity or with your motor.
Therefore, it's best to get a board that has water-resistance. This feature may raise your board's price a little, but it might end up being a worthy investment as it adds protection.
Travel-Friendly
If you're big on air travel, you need to ask yourself before you purchase a skateboard. "Is this board air-travel friendly?"
Trust us; this will save you from a lot of hassle in the future.
You can also save up a lot of travel expenses by using your electric board to commute. Moreover, exploring places on your e skateboard is a whole other experience.
Many riders don't know this, but a good portion of electric skateboards in the market are designed to be air travel friendly.
How do you know if your board is safe to take on an airplane?
Simple, the battery pack needs to be 99Wh or below to be airplane friendly. Also, remember, if the battery can't be removed without a tool, you may face some issues with airport security.
We suggest you look at travel laws carefully and then recheck your board's features to see if it's safe to travel with it.
Safety
As with all products, you need to ensure your electric skateboard is safe for you and those around you.
The e skateboard industry is growing, which means various manufacturers are entering the market. Some of these manufacturers are experienced, while others are not.
You need to make sure the materials used to manufacture your board are all safe. The battery, in particular, should be Ul certified. Also, make sure you read all the instructions when you charge your board.
In addition, if you're a newbie, we suggest you wear full protection gear until you have better control of your electric skateboard. Always start at low speed and only increase the speed once you're more comfortable riding.
Frequently Asked Questions About Electric Skateboards
Is it Worth Buying an Electric Skateboard?
If you regularly commute to nearby locations by bus or taxi, you can save up a lot of money by investing in an electric skateboard. Not only are these convenient, but they're also portable.
They're a level up from traditional skateboards. With traditional boards, you have to put in extra effort to pedal, but with an electric board, the motor does the job for you.
Besides, the thrill of cruising down streets is a completely different experience than walking or traveling on a bus.
Should Beginners Use Electric Skateboards?
Of course!
Regardless of the sport, everyone is a beginner at one point. This should not stop you from purchasing an electric skateboard.
Usually, with traditional skateboards, beginners often have a hard time braking. However, this task becomes easy with an electric skateboard as you can simply brake using the remote control.
One thing to keep in mind when riding for the first time is to start slow. Take it one step at a time, begin with the lowest speed, working your way up as you get more comfortable.
The main idea is to get your balance and maneuvering right. Once you have that mastered, you will be comfortable on your board in no time.
Should I Learn How to Maintain and Repair My Electric Skateboard?
This isn't a requirement. However, it is useful to know some of the basics.
Imagine you're cruising down the street, and your battery dies, or the belt on your motor breaks. In these situations, basic repair know-how would come in handy.
It's a good idea to keep a small tool kit on hand whenever you take your board out for a ride. It's just like how you keep a spare tire in your car.
Do keep in mind that some skateboards come with their own specific tools.
If you're unsure of the problem, we suggest against probing too much and letting an expert handle the situation.
Can I Use My Electric Skateboard for Commuting?
As mentioned earlier, taking your car, a cab, or bus to commute can be a bit costly. In addition, you have to deal with traffic and parking issues.
On the other hand, a bicycle or a traditional skateboard is more environment friendly, but it requires you to exert energy. By the time you get to work or school, you'll be sweaty and stinky.
With a bicycle, you also have to worry about finding a safe parking space. The last thing you want is your bike to be stolen.
An electric skateboard is a great alternative. It's small and portable, which means you can either store it in your backpack or in your locker. Moreover, since it already has a motor, you don't have to exert energy.
Plus, a decent electric board is cheaper than an electric scooter.
When purchasing a board, do keep in mind the battery life and if it's suitable for your daily commutes.
What Age Is Suitable to Learn to Ride an Electric Skateboard?
Anyone above the age of 14 can start riding an electric skateboard. It's dangerous for younger children to let them ride an electric skateboard as they may have a hard time controlling and balancing at high speeds.
As for adults, honestly, it doesn't matter if you're 20 or 50 years old. You can learn how to use an electric skateboard anytime. Again, the key is to learn how to balance and maneuver on the board.
Start slow, and you'll eventually be able to ride on an electric skateboard comfortably.
Can I Perform Tricks on an Electric Skateboard?
No, you shouldn't. Some riders do perform tricks on their electric skateboards. However, this is not safe and can also damage your board.
Electric skateboards are designed for cruising. Besides, as electric skateboards are expensive in comparison to traditional boards, it's risky performing tricks on them as you're increasing the chances of damaging your board.
If you want to practice tricks, we suggest you purchase a high-performance shortboard. Shortboards are more suitable for tricks.
Are Electric Skateboards Customizable?
Skateboards love customizing their boards to show aspects of their own personality. Riders have been customizing traditional skateboards ever since they were created. While customizing electric skateboards isn't as simple, it's not impossible.
You are limited in the way you customize an electric skateboard, but here are a few things that you can do to add your own touch to your board:
Customize grip tape
Add your own wheels
Change the tricks
Add alloy rims and/or shock absorbers
Decals
Conclusion
Given the variety of models available in the market, you need to look carefully at all the features before you decide to purchase an electric skateboard. Plus, given that electric skateboards are expensive, it's best to do your research thoroughly.
As we discussed in this post, you need to look at your board's components and the manufacturer's reputation.
Our pick for the best electric skateboard is the SKATEBOLT Electric Skateboard Breeze II Electric Longboard. It gives you four different speed options and four other braking options.
Moreover, not only is it the fastest board on our list, with a maximum speed of 28 MPH, but it also has the most extended battery range, allowing you to go up to 15 miles.
We hope this post helped you gather the necessary information about electric skateboards and help you hunt for the best e skateboard.