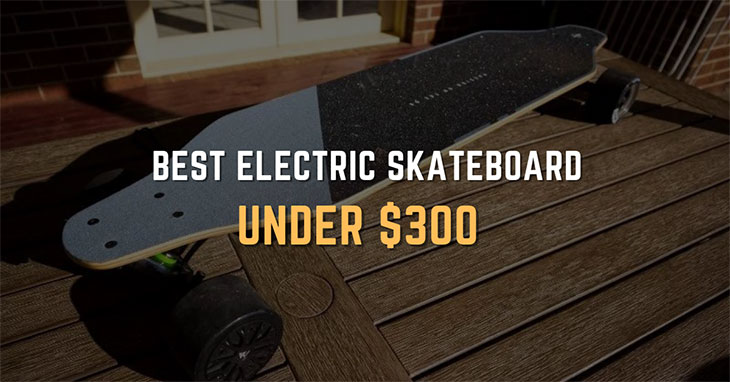 Top 5 Best Electric Skateboard Under 300 – Top Choice 2022
Whether you're riding around the neighborhood or commuting to work, an electric skateboard offers a fun way to get around. 
This portable device allows you to ride at faster speeds and glide through traffic jams, saving your time. Besides, it is equipped with an innovative braking system giving you control over speed on the road, terrains, and uphill. 
Unsurprisingly, e-boards are growing in popularity among teenagers and adults alike. While traditional skateboards were inexpensive, e-boards can easily run into thousands of dollars. 
However, a few brands offer value with affordability. If you want to enjoy an eco-friendly ride with a budget-friendly e-board, we got you covered! 
Check out our list to find the best electric skateboard under 300 for yourself! 
See also: Best Budget Electric Skateboard | Best Electric Board
Top 5  Best Electric Skateboard Under 300
As the interest in e-boards continues to grow, so does the electric skateboard industry. However, beginners can easily get discouraged seeing the best models with a price tag of $1500 or more. 
Luckily, several e-board companies take care of your pocket and offer great value at a low price. We've compiled a list of some of the best electric skateboards under $300. Let's dive right in! 
1. Apsuboard F3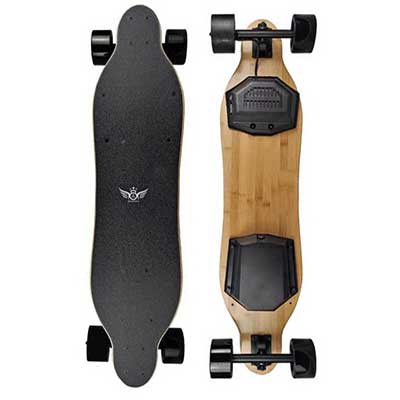 The first on our list and for good reasons. The Apsuboard F3 is the best electric skateboard for under $300. 
Apsuboard is a popular e-skateboard company in China. The firm aims to make cities smaller, commutes enjoyable, and college more accessible by providing premium skateboards. 
The company designs e-boards that can handle rough terrains while offering a thrilling riding experience. 
Absuboard F3 is another effort by the firm to provide a premium e-board to skateboard lovers. It's lightweight, fast, and offers a comfortable riding experience. Let's take a closer look at its features. 
The skateboard comes with a 144 Wh battery size and offers a range of 10 miles – fairly good. 
Its wheels are 90 mm in size, offering a smooth ride. 
Not all riders like to ride at the top speed, and not everyone wants low speed either. Perhaps it's the reason why the e-board comes with four-speed modes. 
As a beginner, you might want to ride at a low speed so you can adjust the mode per your preferences. 
Advanced skateboarders prefer top speeds, and they can ride so by switching between modes. 
Regular riders are pretty concerned about the charging time of e-boards. Skateboards that take long enough to charge do not suit daily riders. 
If you use your skateboard for a regular commute, lucky for you, Apsuboard F3 has a charging time of only 2 hours. 
However, make sure that you do not use your e-board in rain or storm. No e-board company takes charge of its e-board's safety if you ride it in wet weather, and Apsuboard is no exception. 
You'll ruin the internal components of your e-board by riding it in harsh weather conditions. 
Overall, the board offers good performance with a top speed of 17 mph. The only downside is that it comes with a single motor that may slightly compromise its power. Besides, the delivery time can take longer because the company is located in China. 
Pros
Fast charging time
4 speed modes
Lightweight
90 mm wheels offer a smooth ride
2. MEEPO V4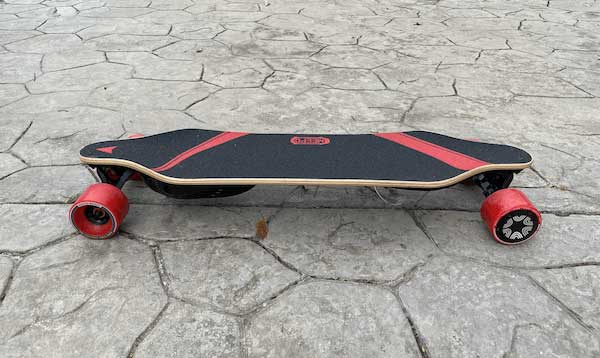 The company considers MEEPO V4, an e-board that "Everyone Should Own," but is that true? Well, many customers also agree that it's a "great value for money" and packs a lot of power. 
The skateboard features a concave deck with flared edges, giving you extra space to lean on when turning in circles. 
The deck is long and wide enough to offer enough space – if you're not a pro rider and need additional space to prop yourself.
The 90 mm wheels with a 60 mm contact area maintain their stability while increasing acceleration and taking turns.
It comes with a battery capacity of 144Wh, but you can go for an extended range (ER) battery, too. 
The board gives you an impressive top speed of 29 miles per hour, enabling you to dash over a wider variety of elevations than most standard boards. 
Further, it enables you to climb over 30% incline, allowing you to transverse to local roads easily. 
The key feature that sets this board apart from the rest is its fast charger. You'll get your board charged within 28-58 minutes. 
Besides, it comes with an IPX6 waterproof rating. However, that doesn't indicate you can ride it in the rain. It's best to take care of your e-board and not end up damaging its internal components.
Pros
Beginner-friendly
Excellent range
Auto on and off
Includes a fast charger
Cons
The battery is not big enough for the price
3. VERREAL MINI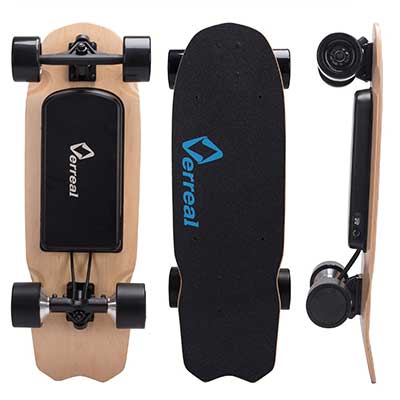 Verreal, a relatively small electric skateboard company, doesn't fail to please customers with quality e-boards at the lowest possible price. 
The Verreal Mini is just another successful attempt by the company that made the consumers go "wow." But what exactly gives it a "wow" factor? We'll explore below!
First off, this super skateboard comes with a regenerative braking system. Simply put, your electric skateboard gets recharged when you hit the brakes – saving up energy for longer rides. 
It includes a strong, high-performing ECS that has been tested on other electric skateboards but didn't fail to prove what makes it a better choice. 
Verreal Mini lets you swap the battery pack in no more than 5 minutes, thanks to its swappable battery feature. 
All you need to do is unscrew the battery casing and install a new battery. If you like to go for longer rides, this feature will save your day. 
It weighs around 15.4 pounds and offers a top speed of 40 kilometers per hour. 
The aluminum alloy casing makes it unbreakable and robust. 
What's more, the antenna on the remote and ECS give a stable connection – you won't lose signal, no matter what. 
Talking about the specs, it features two 250 W motors, giving it a maximum of 500W power. The wheel size is 90×54 mm – reasonably good. 
Besides, it is UL certified for IP20, which is another plus. 
The deck comprises 7 layers of Canadian maple, making it rigorous. 
Pros
The 7 layers Canadian maple deck is pretty strong and offers a stable ride
30% climbing hill capacity is good
Swappable battery
The aluminum alloy casing is pretty strong
Cons
The weight is slightly more compared to other e-boards on our list.
4. Apsuboard V3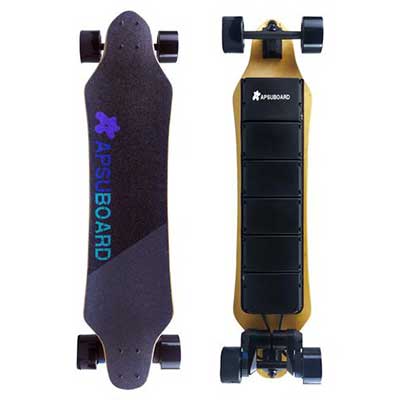 Apsuboard V3 comes with a fantastic, affordable price tag and great performance specs. 
You can switch between three modes using the Hobbywing remote. The first mode provides 12.5 miles per hour speed, suitable for beginners. The medium mode gives 19 miles per hour of maximum speed.
The pro mode with 25 miles per hour of impressive speed is suitable for more seasoned riders.
It is equipped with a dual-motor system of 250 W, ensuring maximum power and stability during the ride. Besides, the standard Hobbywing ESC system gives smooth braking and accelerations. So, if you're a beginner, you'll enjoy a stable ride on this board. 
It comes with a 400 mAh battery, which is great. Besides, it takes only 2 hours to charge – good news for more frequent riders. 
Once you turn on the board and the remote, both devices will connect automatically. All you need to do is step on the board and enjoy the ride. Nonetheless, make sure you turn off the remote and board once you're done riding – for safety purposes.
Though the board is strictly waterproofed once it leaves the factory, it's still better to avoid riding on icy and watery surfaces. 
On the downside, the front wheels aren't too soft, and the 80A wheel size makes the ride slightly shaky on rough surfaces. 
Pros
Competitive price range
3 different riding modes for beginner and skilled riders
Comes with a 90-day warranty for damaged parts, including batteries, ECS, and motors.
Cons
80 A wheel size makes the ride unstable on terrains
5. Backfire G2 Black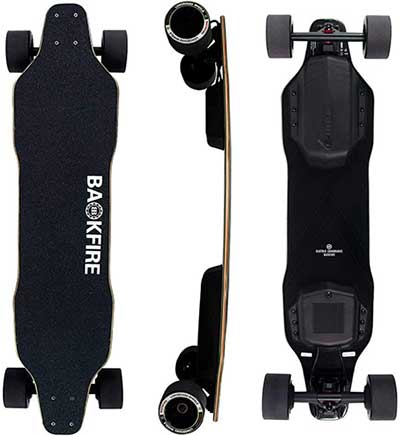 Backfire G2 Black comes with an incredibly low price, but it won't feel so once you step on the board. 
The impressive power range of this electric skateboard sets the bar high for beginners yet on the learning curve. 
The board's aesthetics are sleek and come with a conservative color scheme. 
The 38 inches long deck with a shallow concave is relatively easy to ride. Besides, an 8 layer Canadian maple deck reduces vibrations that you may otherwise experience on standard e-boards. 
What's more, the board includes a Hobbywing 10S ECS that effectively manages braking and acceleration.
Even when you hit the top speeds, you'll experience a remarkably smooth ride.
It gives an impressive top speed of 24 miles per hour without making the ride unstable. So, if you are pro, looking for a thrilling ride, the BackFire G2 board won't disappoint you. 
The board comes with a 42V, 5Ah, 180Wh battery, which is another plus. 
The charging time is 3.5 hours, slightly more than other e-boards on our list. 
However, when the battery is below 25%, the board's remote begins vibrating, so you can charge enough to reach your destination. 
Pros
Awesome customer service

Sleek design

Replaceable urethane wheels

Excellent value for the money
Cons
No braking with a dead battery

Long charging time
The Best Electric Skateboard Under $300: Buying Guide
If you plan to purchase a 300 electric longboard, you'll find a couple of options on the market. Choosing the best one among all is not an easy thing. In fact, it might boggle your mind, "This or that?"
However, knowing what features make a quality e-board will make the buying process easier for you. 
We looked at several features when compiling our list for the best e-boards. Here are some things you need to consider when purchasing one for yourself. 
Range and Battery Capacity 
Since more people use electric skateboards for commuting to work or campus, how far an e-board goes is somewhat of primary concern. 
Consider your e-board runs out of battery when traveling to work – not good. 
So, it's the battery capacity that determines the range of your e-board. However, a powerful and large battery will add up to the size, weight, and of course, the price of the e-board. 
But, again, a smaller frame can increase the range too because a small e-board needs less energy to travel far. 
Battery capacity can be your concern if you want to take your board when traveling via airplane. The FDA has restricted the battery size to 101-160 Wh. 
If your e-board has more battery range, you won't be able to carry it along with you. 
If, however, you're an everyday rider who commutes or travels to longer distances on your e-board, you need a stronger battery with an extended range. 
Deck Material 
While pro riders pay more attention to battery range, capacity, and motors, deck material is not something one should brush off either. 
But, deck material isn't solely about the e-boards aesthetics. Instead, it's the materials used to compile the deck. 
If you frequently hit top speeds, you need a stiff and thick deck that offers stability. On the flip side, if you plan to ride over changing terrains, a flexible deck will suit you better. 
Overall, the deck comfort is somewhat a personal preference. Few people like their board hard; others find a soft one easier to ride on.
You need to figure out what type of deck you prefer. 
Further, add-ons like grip tape can also contribute to the stability of your skateboard. 
Cost 
A popular belief among e-board lovers goes like this, "You get what you paid for."
Well, it's somewhat true, but not precisely. 
When you hit the market to purchase an e-board, you'll easily come across some crazy prices that might make you want to give up on your dream to ride an e-board. 
However, a careful search can help you find a suitable board for you without paying a hefty price. 
But then, of course, you'd need to compromise on a few things slightly. The build-in design and technologies won't be similar to a thousand-dollar e-board.
Still, companies manage to offer innovative e-boards at a fair price. Perhaps this explains why they are more popular than the rest – offering e-boards under $300. 
Customer Service 
Customer service is one of the biggest factors that speak volumes about the brand's authenticity in the industry. 
Premium brands offer good customer service, which customers expect too – the companies don't have a choice otherwise. 
Customer service can come in handy for e-boards that come with a warranty. Besides, a few e-boards cover several device issues in the warranty. 
So, if you run into an unexpected problem with your e-board, you can get in touch with the company and seek immediate help. 
You can read online reviews or blogs about the company and its credibility.
Comfort Level and Riding Experience 
Whether you're a beginner or an advanced skater, riding experience is of prime importance to you. I mean, what's the point of paying for an e-board anyway if it doesn't offer a comfortable ride? 
But what exactly determines the comfort of your ride? 
One factor that indicates the riding experience is the maximum range and speed of an e-board. 
Several technical components determine a board's top speed, including weight, wheel size (and their effectiveness), and motor type and power. 
But top speed is again a matter of personal preference. Many skaters might not want to ride at top speeds. 
If you're a beginner, we recommend you ride at low speeds. However, if you prefer incredible top speeds, several budget e-boards like those under $300 allow you to do so. 
Wheel Size and Type
Wheel size greatly affects the performance of an e-board. Even if your board has quality deck material, dual motor, and powerful battery, it's no good with small wheel size. 
Wrong wheels can make your board shaky – on flat surfaces and terrains – giving you an uncomfortable riding experience.
Remember, larger wheels are more effective on rough surfaces and terrains.
Besides, large rubber wheels are also good for off-road experiences. 
If you like to switch between urban riding and off-road, you can go for an e-board that comes with multiple-wheel capabilities. 
Fortunately, some e-boards allow you to change the wheel size – a good option for someone who rides an e-board at multiple places. 
Motor Type and Drive Train
The way your board performs on the road is greatly determined by its wheels, deck material, and battery power. However, the nature of motor power also contributes to your e-boards performance. 
Generally, there are three types of motors:
Belt systems

Direct drive

Hub motors
Hub motors are standard for most budget-friendly e-boards – but not all. Nonetheless, it's best to know about the functionality of all. 
Belt drive motors deliver the best performance. Yes, they are loud but offer a smooth riding experience and mostly allow riders to switch the wheels. 
On the other hand, Hub motors offer less personalization but give a stable ride. What's more, they are quieter than belt drive motors. 
Direct drive systems are relatively new types but are gaining attention real quick. 
They offer high performance, but one drawback is that they get too close to the ground when riding. If you ride carelessly and easily stump into debris and rough paths – that should've been avoided otherwise – these types of motors are not for you. 
FAQ 
Here are some frequently asked questions by beginner and advanced e-board riders. 
What Is the Maximum Speed of a $300 Electric Skateboard? 
Advanced riders are mainly concerned about the maximum speed of e-boards, and if you're one, I bet you're in the same boat, and why not?
Hitting top speeds offers an exhilarating ride, particularly on days when you are seeking adventure with your favorite riding buddies. 
A few electric boards under $300 offer several speed modes, but the top speed is around 29 miles per hour, which is pretty impressive. 
So, don't let the price fool you; you can still enjoy a thrilling ride on an e-board for under $300.
Is It Easy to Ride an E-Board Under $300?
As mentioned earlier, the deck, battery capacity, and wheels impact the performance of your e-board. Luckily, several e-boards under $300 offer quality deck, large wheels, and good battery capacity. 
So as long as you purchase one, it will offer a comfortable riding experience. A comfortable ride is what makes it easy, too. 
But the ease also depends on how skilled you are at riding an e-board. Because you're purchasing a board under $300 doesn't mean it'll be challenging to ride. It's a matter of grip. Skilled riders find most e-boards easy to ride, and the ones under $300 are no exception. 
Are $300 E-boards Good for Beginners? 
Under $300 boards are suitable for both beginners and pros. Novice riders should ride at low speeds to gain experience and avoid accidents.
Fortunately, e-boards under $300 offer a stable ride at low speeds. Therefore, beginners can experience a comfortable ride at a pace that suits them best. 
How Long Do E-Boards Under $300 Last?
You might think that an e-board under $300 won't last long because of its low price, but that's not true. 
How long a board survives depends more on how you handle it. If you ride your e-board in harsh weather conditions, hit top speeds on rough paths, and overcharge it, it may not last long – even if it's a thousand-dollar e-board. 
So, as long as you handle your e-board carefully, your $300 board will last long. 
Final Words 
Opting for an affordable electric skateboard with good features makes more sense than breaking your bank for extra, not-much-needed features – particularly if you're a beginner. 
Well, if you prefer add-ons and can afford to pay a high price, we won't recommend otherwise. But novice riders or those facing a budget squeeze shouldn't think they don't have an option.
You can easily find the best electric skateboard under 300 with pretty good features and specifications. 
Hopefully, our guide will help you choose one.
Happy riding!