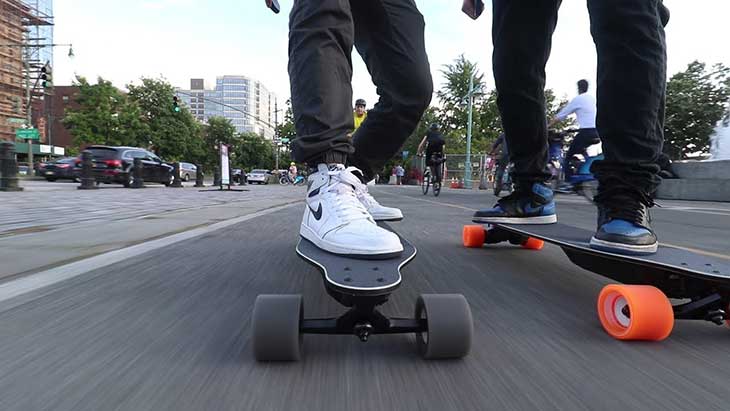 Can Everyone Ride Electric Skateboards? – Here's what you need to know!
Electric skateboarding is fun, easy to learn, and an environment-friendly means of transportation. They are a bit similar to the traditional skateboards, except they have a motor, and you do not need to step down repeatedly to initiate movement.
Simply put, electric skateboards are a modified version of traditional skateboards. Currently, they are among the most sought-after sports items, and for the right reasons. You can travel uphill, cover long distances (in no time), and whistle your favorite tone as you get around on an e-board.
These boards offer numerous advantages, so many people are enticed to buy them. As such, they are often stumped with questions like, "Can everyone ride electric skateboards?" or "Are e-boards legal on the road?"
Here's everything you need to know about e-skateboards!
Can Everyone Ride Electric Skateboards?
If you're wondering, "can anyone ride electric skateboards?" Consider this question, "can anyone ride a car?". Perhaps no.
While learning to ride an electric skateboard is pretty easy, you need to know some basics, and you can begin riding within a few days. That said, you can't assume your 10-year old kid can ride it with utmost ease (we're not discussing tricycling).
To make it easier, just like you keep in mind the balancing factors, brakes and the related things during cycling, electric skateboarding also requires you to keep a few things in mind before even trying.
Below, we'll discuss a few requirements for riding an electric skateboard.
Electric Skateboards: Who Can Ride Them?
So, who can ride an electric skateboard? Here is the list!
If you're 18+, you can skate alone.

If you're under 18, you'll need adult supervision.

You should weigh under 400 Lbs. See also: weight limit for electric skateboards

You should be physically fit and know how to use an e-skateboard

Height doesn't count

If you have a health condition, consult your doctor
So, it's pretty much apparent that e-skateboards are for adults. But that doesn't mean kids are not allowed to ride one. Children can ride an electric skateboard under adult supervision or after getting proper training (to avoid accidents)
If you're an experienced e-board rider, you can opt for any electric skateboard. However, as a newbie, we recommend you to purchase one that is suitable for beginners.
Beginner's Guide To Electric Skateboarding
Wondering how to ride an electric skateboard for beginners? We have a few helpful tips for those just getting started. So, without further ado, let's get straight to them!
Prioritize Safety
Wear proper clothes, and do not forget to bring your helmet

Wear comfortable sports shoes

Before you hop on the board, check if it's in good condition (see the bolts, nuts, motor, tires, and the grip tape)

Make sure that the board surface is smooth and safe

Lubricate the bearings of the e-skateboard for optimal performance

If any part looks damaged, consider replacing it with a new one (make sure you get one of the exact specifications and size)

Find a suitable place to ride (avoid getting on busy roads)
Rider's Guide
Step onto the skateboard and maintain an appropriate posture.

Ideally, both of your feet should be slightly apart, and your back foot should be positioned squarely.

The front foot should be placed so that it is somewhat outstretched.

Get your remote and press the start button.

Begin by practicing on a straight line at a moderate speed, applying breaks when necessary.

Your ride is controlled by a remote. Therefore, you should focus on maintaining a balance.

The key is not to become overly tense but to remain alert (do not forget to enjoy the new experience).

Once you are comfortable riding straight lines, you can try light turns. To manage them, shift your weight as necessary. Nevertheless, keep a slow pace.

Remember that you cannot stop the e-board abruptly by pressing the stop button. Make sure you slow down, press the stop button, and place your foot firmly on the ground.

No matter how much experience you gain, it's best not to rush things. That is, try to resist the high speed of electric skateboards. Mastering the ride takes quite a while, and you must prepare physically and mentally before you accelerate.
Can I Ride an Electric Skateboard on the Road?
While electric skateboards are gaining popularity, they are still a relatively new mode of transportation, and many still see them as an odd commuting option.
The legality of e-boards varies from country to country. In the US, you cannot ride an electric skateboard if you are:
Intoxicated

Not wearing a helmet

Riding near universities, schools, or colleges

Speeding over 15 miles per hour

Not equipped with white lamp in front, red light on the back, or yellow reflectors on sides while riding at night.
So perhaps you can ride an electric skateboard on the road, but you'd need to be respectful and obey the rules stated above.
Yet, we still recommend avoiding roads. Nevertheless, if you'd like to ride on roads, make sure you avoid busy streets and be in the bike lane.
If you own an e-skateboard, you are free to roam around anywhere. However, for a rented electric board, you'd need to stay in the company area.
Can I Ride an Electric Skateboard in the Park?
The government views electric skateboarding more as a game than a transportation option. So, if you're riding for recreational purposes, a park is perhaps an ideal option.
You can get around safely without the risk of an accident. What else is good? You can practice your tricks in a park (which is not advisable to attempt in crowded streets)
In other words, electric skateboards are welcome in parks, and it is better to ride them there than elsewhere.
See also:
Bottomline
Electric skateboards are a bit heavy and expensive. But you won't mind that when you'll experience the thrill of riding one.
Nevertheless, make sure you wear your safety gear and avoid riding on busy roads. Also, make sure you practice well before you actually get around the city.
So, can everyone ride electric skateboards? Certainly not, a few restrictions discussed above should be kept in mind.
See also: Onewheel Vs Electric Skateboard: Which One Is Better?