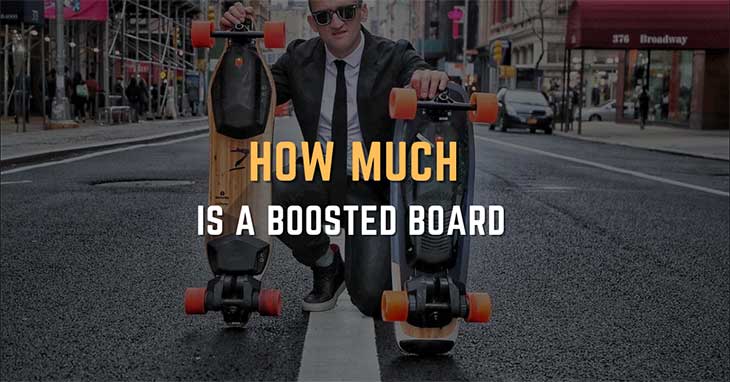 How Much Is A Boosted Board – A Wonderful Guideline For You
If you're looking for a good-quality e-skateboard, you must check out the Boosted Board. These electric skateboards have been featured in many YouTube videos and magazines.
The excellent quality may have caught your interest, but what about its price?
Let's find out how much is a boosted board.
See also: How Much Does An Electric Skateboard Cost?
How Much Does a Boosted Boards Cost?
So how much money is a boosted board? Here are some of the best Boosted Boards in the market and their prices:
Boosted Mini S
This is one of the more affordable boards you can buy from boosted, and these are quite portable. The mini S is the perfect board for people who are always out and about. It comes with three different ride modes and lets you travel up to 7 miles at once.
The price of the boosted mini S is $749, which is quite reasonable for such a portable and powerful electric skateboard.
Boosted Plus V3
Although a little pricier than the mini S, the boosted plus V3 is worth the money. It has a top speed of 22 mph and a sleek appearance. In addition, this Boosted Board allows you to travel up to 14 miles per charge, which is perfect for people who use the board to commute.
Priced at $1199, the boosted plus v3 is worth every penny.
Boosted Stealth
The boosted stealth is one the fastest electric skateboards that you can find on the market. Just like the plus V3, this board can travel up to 14 miles per charge. With an impressive top speed of 24mph, this is an excellent board for people who like to experience the thrill of speed.
Priced at $1599, it's worth buying if you want a faster electric skateboard.
Boosted V3-T1
The most expensive board that boosted sells is the V3-T1. Priced at $1999, there is no doubt that this board is on the pricier side. But is it worth the money?
This board is top quality and very powerful with an XR battery, an amazing hand-built body, and a boosted stealth motor.
Boosted Board vs. Electric Skateboard
So what exactly is the hype behind Boosted Boards, and are they better than regular electric skateboards?
One of the main differences between a Boosted Board and a regular electric skateboard is replacing certain parts. With a Boosted Board, you can replace components in case they get damaged.
Most Boosted Board models are also high-speed and have a powerful battery life, making them more high quality than most electric skateboards. They also run pretty smoothly and are a reliable option when it comes to buying an electric skateboard.
Prices: A Comparison
So how much is a boosted board? Compared to regular electric skateboards, Boosted Boards are a bit on the expensive side. Of course, there are pricier electric skateboards on the market, but when it comes to the Boosted Board, they can sell for up to $1600.
Boosted Boards also have some decently priced boards which are portable and functional. One of these boards is the Mini S, which is one of their lesser-priced boards.
But if you're on a budget, you can find plenty of amazing electric skateboards on the market for a lesser price.
Why are Boosted Boards Pricier?
Why exactly do Boosted Boards come with such a hefty price tag? For starters, Boosted Boards are high-quality electric skateboards with powerful batteries that allow you to charge your board for longer.
Boosted Boards are known for their reliability when it comes to electric skateboards. In addition, each board has an impressive top speed, an aesthetically pleasing design, and works smoothly. There is no doubt that these are some of the best electric skateboards on the market.
Another great thing about these is that you can control your board by simply connecting it to the Boosted Board app on your smartphone.
Boosted Boards have great reviews and are easily one of the safest electric skateboards available.
A Good Option to Buy in 2022
Absolutely! If you're looking for an easy way to commute and want an electric skateboard that's worth your money, Boosted Boards are the way to go.
Praised by many all over the world, no doubt these boards are top-quality. You'll see that Boosted Boards glide smoothly and are worth the price. Another bonus is that they are safe and easy to use.
Other Alternatives
If you are looking for some more options other than the Boosted Board, here are some great alternatives:
Acton Blink S2

Benchwheel B2

Swagtron Swagboard NG-1

Halo Board

Azbo H6

Ownboard W2
Conclusion
Electric skateboards are great for both skate enthusiasts and people looking for an easy way to commute. If you're looking for great quality boards, then there's no doubt that Boosted is one of the best.
With many cool models to choose from, we're sure you'll find the board that's perfect for you.